2019 East County Fearless Forecaster – Week Three
Updated: September 6, 2019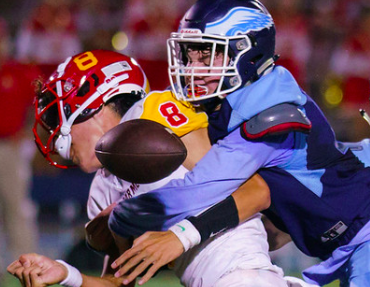 Granite Hills forces a fumble against Mt. Carmel / photo by Scott Barnhill - CSPROPHOTO
2019 EAST COUNTY PREP FOOTBALL
EAST COUNTY FEARLESS FORECASTER – WEEK THREE
By Ramon Scott 
EastCountySports.com
SAN DIEGO – Granite Hills head coach KELLAN COBBS and Steele Canyon head coach SCOTT LONGERBONE are fast friends.
A typical regular season Friday night with have the pair meeting for a cold beverage after the game to talk about football, among other things.
Cobbs certainly was in the ear of his buddy following the Cougars' 19-14 road win over Madison and top running back Ke'onte Springs last Friday.
The Cougars laid out a blueprint on how to beat the Warhawks, "limiting" Springs to 168 yards of total offense.
Now, the Eagles, an undefeated team that rates similarly to its league foe, heads to the Madhouse to try and duplicate the Cougars' effort this evening.
Kickoff is at 6:30 p.m.
Granite Hills junior Justus McComb was 18-of-24 passing for 240 yards and threw for four touchdowns to lead the 11th-ranked Eagles to a 34-14 win over visiting Mt Carmel last Friday.
Against the Sundevils at Valley Stadium, senior Jacob Setterberg grabbed seven passes for 98 yards and two scores, while junior Matt Keeley had a pair of interceptions, giving him an East County-leading three on the season.
Granite is nearing entry into the county top ten at No. 11 this week in the media poll while the Warhawks dropped to 13th following last Friday's home loss to seventh-ranked Steele Canyon.
Madison was ranked ninth heading into that matchup of ranked teams which makes this contest similar in nature since the Eagles are just a few spots behind the Cougars.
The Warhawks now sit behind the Eagles in the newest computer ratings, as well, so they will possibly need to come up with more than just a home-field advantage… GRANITE HILLS, 23-21.
MAR VISTA (1-1) at SANTANA (2-0) – Last season, the Sultans avenged a 27-13 regular-season home loss by defeating the Mariners on the road, 23-6, in the quarterfinals of the Division IV playoffs.
Sultan senior Nathan Temple was 15-of-26 passing for 210 yards and two touchdowns and led the Sultans over Serra, 31-14, on Friday.
Randy Smith caught seven passes for 143 yards and two touchdowns. Brooks Moutaw rushed for 89 yards and a touchdown.
Temple, who missed the regular-season matchup with an injury, had 184 yards of total offense in the playoff win last November but Santana's defense was a big key in that one, forcing three turnovers while allowing no third-down conversions in the second half.
These programs are meeting for the eighth-straight year but the Sultans have likely distanced themselves from their section rivals… SANTANA, 35-20.
SOLDOTNA (Ak.) (2-0) at CHRISTIAN (1-1) – At Valley Stadium, the Patriots, who went all the way up to Contra Costa County for a win last week over De Anza, host the top-ranked team from Alaska this Friday.
Christian won 23-16 up north after leading 23-0 at halftime.
Senior Gabe Stine had a 43-yard touchdown run in the first quarter for a 7-0 lead.
Patriot senior receiver Todd Beezer had a 35-yard reception from junior quarterback Gabe Krug right before the end of the half which led to a field goal.
Soldotna (2-0), which defeated South, 53-20, on Saturday in Anchorage for its 11th-straight victory, arrived here earlier this week. The Stars recorded four interceptions in the win.
The Patriots may be underdogs according to the computer rankings but the travel, along with Soldotna's recent logistical difficulties at home due to a major wildfire, is a sure equalizer that makes this game close… SOLDOTNA, 32-26.
CORONADO (1-1) at EL CAJON VALLEY (2-0) – Surely, no other team in the county has a bigger look-ahead game than the undefeated Braves as they prepare for a visit from the Islanders at Priest Field this Friday.
After all, last season Coronado suffocated El Cajon, 76-0, even tacking on a pair of touchdowns in the fourth quarter.
Although the game was sure to be scheduled again this season in conclusion of a two-year home-and-home, the Braves players made sure to tell coach Osborn not to drop the Islanders from the schedule.
Now, following an 0-10 season in 2018, the Braves are currently considered a top contender in the county's Division V playoff picture.
Last Friday, El Cajon Valley junior Damarius Hyde rushed 15 times for 194 yards and two touchdowns and El Cajon Valley made a stop on a two-point conversion try in the final minute to hold off Hoover, 20-19. It was the second consecutive week, the Braves defense came up big in the clutch.
Coronado comes in off a stinging defeat at home against Classical Academy when a deflected pass landed in another receiver's hands behind the defense for the go-ahead touchdown with 11.7 seconds remaining in the game.
The rankings, along with the home-field advantage and the Braves' inspired determination, would suggest that El Cajon could possibly make the complete 76-point turnaround as this one is expected to be much, much closer this time… CORONADO, 35-34.
MONTE VISTA (1-1) at HENRY (1-1) – Monte Vista defeated Rancho Buena Vista, 28-14, as senior running back Isaiah Gardner scored on runs of 66 and 2 yards, and senior quarterback Ruben Silva had a 46-yard keeper for a score in the first half.
The Monarchs scored twice in the fourth quarter, including Gardner's long score to take a 21-14 lead after the Longhorns tied the game at 14-all, early in the period.
Patrick Henry will be hosting its second game since the opening of its renovated stadium.
Morse wasn't the most gracious of housewarming guests, thrashing the place with a 68-32 win last Friday.
The Patriots won at Mount Miguel in the season opener, 40-34, and after going 1-9 a-year-ago, appear to be a much-improved squad under former NFL quarterback J.T. O'Sullivan.
Sullivan's first QB student is senior Michael Castillo, who has 635 yards and eight touchdown throws in two games.
Monte Vista is favored to win but Patrick Henry's rapid progress and new home digs are drawing this one closer… MONTE VISTA, 28-27.
EL CAPITAN (0-2) at SAN DIEGO (1-0) – In what turned out to be a real barn-Burner last Friday night in Lakeside, the Hilltop Lancers and defensive coordinator Ron Burner III, defeated the Vaqueros, as son got the best of dad, Ron Burner, kinda, as El Capitan scored 41 points against his boy's unit, but lost by six.
Vaquero senior quarterback Wick Hauser passed for 280 yards and four touchdowns.
Junior Kalan Lavallais had three touchdown receptions and over 100 yards receiving for El Capitan, and senior Donny Green had a touchdown running and receiving to finish 166 yards of total offense.
The Cavers won the 5A state division championship last season and are currently the top-ranked team in Division III, while El Capitan is 12th in the same division.
Junior Mo Jackson rushed for 212 yards in San Diego's 40-0 home-opening win versus Crawford two weeks again.
The Cavers have a strong reputation currently, but head coach Charles James notes that 22 players graduated off of last year's team, and San Diego will suit 27 players on Friday night.
This game will be closer than that but an El Cap win would be an upset… SAN DIEGO, 35-28.
WEST HILLS (1-1) vs. SANTA FE (0-2) (at Whittier) – The Wolf Pack went into last week's home game against Valhalla with just 23 suited varsity players.
Still, the Wolf Pack took a 7-0 lead on a 3-yard touchdown run by Jake Maheu midway through the first quarter.and were ahead of of the Norsemen, 14-7, at halftime.
West Hills senior Kole Klingerman finished with six catches for 72 yards, while twin brother, Kip, intercepted a pass in the contest, but Valhalla scored 17 unanswered points to win, 24-14.
Santa Fe, a Southern Section school in Santa Fe Springs, fell to the Pack in Santee last year, 37-14, and has lost 12 of its last 13 games.
The Chiefs should make it closer, but right now, West Hills needs every win it can get and already can't afford to lose any game it is expected to win, no matter the opponent… WEST HILLS 22-18.
ARMY-NAVY (1-1) at MOUNTAIN EMPIRE (0-2) – The RedHawks lost 41-21 over against Castle Park last week but this one should be more manageable despite Mountain Empire's winless mark.
MARCUS SMITH and DAKOTA DANIELS combined for over 200 yards last week. Smith had two touchdowns, while Daniels had the other for MEHS.
Army-Navy's win came by forfeit when Clairemont didn't have enough players to safely play the game… MOUNTAIN EMPIRE, 23-18.
ROCK ACADEMY (0-0) at FOOTHILLS CHRISTIAN (2-0) – The Knights' Tony Mroz passed for 209 yards and three touchdowns and also rushed for a score at the 8-man champs defeated New Designs – University Park, 41-14 at Seau Field in La Mesa.
Blake McIntyre had 147 yards receiving and scored a touchdown for FCHS.
Mroz has accounted for six touchdowns – four passing and two rushing – in the first two games.
This will be the season debut for Rock Academy in the Ocean League's opener.