Olympians keep Jags out of end zone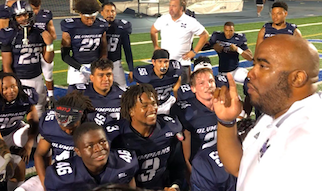 San Diego Mesa head coach Gary Watkins addresses his team following the win.
2019 COMMUNITY COLLEGE FOOTBALL
SAN DIEGO MESA 14, SOUTHWESTERN 4
EastCountySports.com staff report
SAN DIEGO – The San Diego Mesa Olympians kept the Southwestern Jaguars out of the end zone on Saturday, winning the season-opener, 14-4.
Mesa outscored Southwestern, 7-2, in both the first and second half.
Freshman quarterback Thomas Yam, out of Honolulu, passed for a touchdown in the first quarter and rushed for a touchdown in the fourth quarter.
Last season, Ed Carberry coached the Jaguars to victory in the season opener over his former prep player, Gary Watkins, who was coaching his first community college game.
Just a year later, Watkins, who has put a defensive signature on the Mesa program, handed his former coach, a season-opening defeat.
Sophomore receiver Dom McManus caught a 14-yard touchdown pass on the game's opening drive for a 7-0 lead.
With 6:30 left in the first quarter, Southwestern's Sekeli Manu tackled Yam in the end zone for a safety.
The second two-pointer came with 7:54 left in the third quarter when Yam was called for intentional grounding in the end zone, making the score 7-4.
With 8:21 left in the game, Yam had a 1-yard score after taking over on the Jaguar 24 following a bad snap on a punt attempt.
With three minutes to play, Southwestern drove to the Olympian 19 thanks in part to a 30-yard pass play from quarterback Joshua Owen to the Jaguars' Kameron Tiumalu before turning the ball over on downs.
Yam finished with 110 yards passing.
McManus and Antwoine Ware combined for eight receptions for 100 yards for Mesa.
The Jaguars' Tyler Saikhon caught five passes for 34 yards.
Isaiah Mitchell and Hunter Allen had interceptions for Mesa, while Isaac Wright and Tyquan Coleman had picks for the Jags.
Freshman Josh McCurty had a team-high nine tackles Southwestern.
Isaiah Sayles led the Olympians with nine total stops.
Southwestern converted just 3 of 16 third-down attempts.