Patriots put distance on Monarchs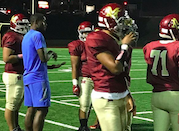 Former Monarch Jahmon McClenon, a freshman at UCLA, watches from the sidelines on Friday. / @Monarchsports1
2019 EAST COUNTY PREP FOOTBALL
CHRISTIAN 46, MONTE VISTA 6
By Thomas Ringer
Special to EastCountySports.com
SPRING VALLEY – The Christian High Patriots arrived on a mission to do battle with Monte Vista on the Monarchs' home turf Friday night.
The Patriot defense came out hot, forcing a three-and-out on the Monarchs' first drive of the game while setting the tone for a smothering defensive performance.
The Patriots kept the Monarchs quiet until the second half.
While the Monarch defense answered with a strong showing early, the Patriots would not be contained for long as Gabe Krug, Christian Salacup, and Nate Stine fired up the offense and got them on the right track.
Salacup had two receiving touchdowns, one of which was an extraordinary diving catch into the corner of the end zone. He ended with 90 yards of total offense.
Stine was the star on the field with four touchdowns, leading the charge to a 27-0 first-half onslaught against Monte Vista. He finished with 123 yards on the ground.
"This was a huge win for our program," Christian wide receiver William Carlock said. "We had been working extremely hard in practice the past week and were fired up to get back out on that field.
"Our defense performed just as well as our offense only keeping the Monarchs to one score.
"Our first three games were tough, but today everything clicked. It was a great start to what we believe is an Eastern League championship and a playoff-contending team."
In the third quarter, the Monarchs showed some life with a touchdown from running back Isiah Gardner. The Patriots quickly regained control, containing the Monarchs and ended the lopsided affair with a 43-6 victory.
Krug passed for 156 yards on 8-of-13 aerials. He also had a 65-yard run.
Christian senior receiver Todd Beezer led all receivers with three receptions for 80 yards.
The Patriots outgained the Monarchs 424-176 yards on the night.