Monarchs point short at Imperial
Updated: September 21, 2019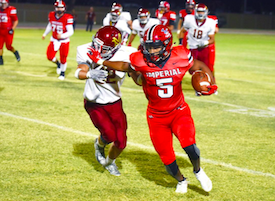 Imperial's Joey Ramos carries the ball against Monte Vista on Friday night. / IVPress
2019 EAST COUNTY PREP FOOTBALL
IMPERIAL 26, MONTE VISTA 25
EastCountySports.com staff report
IMPERIAL — Monte Vista nearly brought home a victory from the Imperial Valley Friday night but ended up succumbing to the Imperial Tigers, 26-25, here on Friday night.
Monte Vista had on a 14-play, 77-yard touchdown drive that culminated in a 16-yard play-action pass from Ruben Silva to wingback Xavier Leyva to give the Monarchs a 6-0 lead. The point-after was blocked.
On the ensuing drive, the Tigers went 65 yards on 10 plays before rushing in for a score to take a 7-6 lead.
The Monarchs led 17-7 halftime lead with a 65-yard touchdown run by senior Isiah Gardner and a 39-yard field goal by Brandon Deacy.
Monte Vista (1-4) had a few quarterback sacks in the first half and forced a fumble on the Tigers' opening drive of the second half.
Imperial (2-3) scored on its next two drives following the turnover and got the decisive touchdown on a long fourth-quarter pass for a touchdown.
"Ruben Sandoval played well for us tonight going both ways at DB and QB," Monte Vista head coach RON HAMAMOTO said. "Just like the Henry game, we had a lead in the fourth quarter but gave up a late TD to lose a close one."
In the end, the Tigers' Jordan Reed finished with 227 yards passing and three touchdown passes. Imperial star wide receiver Joey Ramos had 12 catches for 152 yards.
The Monarchs will regroup with a bye week.