Norseman court comes home for win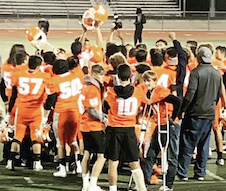 Valhalla players celebrate following a Homecoming win over Kearny. / govalhalla.org
2019 EAST COUNTY PREP FOOTBALL
VALHALLA 20, KEARNY 14
EastCountySports.com staff report
EL CAJON – The Valhalla Norsemen defeated visiting Kearny, 20-12, on Homecoming last Friday night behind 236 yards rushing and two touchdowns from senior Kegan Baker.
Baker, part of the Homecoming court along with teammates Ethan Ferkich and Mohammed Jaafar, received his first scholarship offer earlier in the day from Western Colorado University.
The Komets scored first but Norse junior quarterback Luke Pillsbury completed a 40-yard touchdown pass to junior Gavin Nagel.
Baker had a 57-yards run into the red zone, which would set up a 10-yard touchdown run by K.B., giving Valhalla the lead., 13-6. His second score, a short dive play, increased the advantage to 20-6.
Pillsbury went 7-for-10 passing for 89 yards.
Nagel had four receptions for 59 yards.
Nico Estrada had a pair of touchdown runs, including a 64-yarder on an option pitch for the Komets.
Valhalla's defense was led by Ferkich, who had 13 tackles, a fumble recovery, and a blocked field goal. Sophomore Giovanni Alejo added an interception, a forced fumble and a recovery for the Norsemen.
Laith Adnan had a sack for Valhalla.
The Komets added a touchdown to remain within one score late.
Nattalia Kalla was the Homecoming Queen, while Noor Behnam was announced as the King.
Valhalla (3-2) will host Grossmont (4-1) in a Grossmont Hills League opener next Friday.