2019 EAST COUNTY FEARLESS FORECASTER – Week 7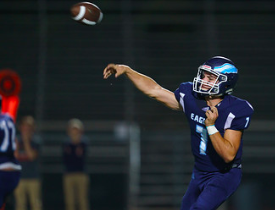 Granite Hills junior quarterback Justus McComb. / CSPROPHOTO
2019 EAST COUNTY PREP FOOTBALL
EAST COUNTY FEARLESS FORECASTER
By Ramon Scott 
EastCountySports.com
EL CAJON – When Granite Hills defeated Steele Canyon in the Cougars' Homecoming game a little over a year ago, little did the Eagles know they had just secured a share of the Grossmont Hills League title.
While not a foregone conclusion at the time, Granite Hills' 30-27 win was the first result of a three-game series that ended up deciding the Eagles' tri-championship with Helix and Steele Canyon.
In fact, it was the Cougars who ended up garnering much of the attention on the season's final night when they upset the Highlanders. Immediately, many outlets proclaimed the teams as co-champions since the game was hyped as the league title matchup.
It could be argued that the Eagles' fair share of the banner was overlooked and underappreciated.
While it could hardly be argued this season that the Eagles continue to be overlooked once again. That would seem like fact.
Heading into Friday night's Grossmont Hills opener against undefeated Steele Canyon (5-0), the Eagles are ranked behind league foes Helix, the Cougars, and Grossmont.
Last week, the 15th-ranked Eagles went to El Centro and defeated Southwest High, 41-7.
Granite Hills junior quarterback Justus McComb rushed for three touchdowns and passed for two more, including a 66-yard touchdown to Matthew Keeley mid-way through the first quarter.
Keeley also had a sack and forced a fumble.
McComb finished with 274 yards through the air, while senior Keyvon Martin, who rejoined the team two weeks ago after moving back from Mississippi, rushed for 69 yards and two touchdowns.
Freshman Jaylen Hall had a 77-yard touchdown reception for Granite Hills.
Meanwhile, last Friday, Steele Canyon debuted beautiful new midnight-blue uniforms against visiting Mira Mesa High but it was the same ol' Cougar defense that recorded a 45-0 shutout of the Marauders.
The Cougars are the county's No. 3-ranked team – behind Grossmont Hills League rival Helix – in this week's San Diego CIF in-season power ratings.
The 5-0 Cougars are allowing less than seven points-per-game so far this season and defeated ninth-ranked Madison in Week 2, 19-14.
Meanwhile, Granite Hills (4-1) lost to the Warhawks a week later, and Madison defeated another Grossmont Hills League contender, Grossmont, last Friday.
Steele Canyon out-gained the Marauders, 449-94, last Friday, which was plenty enough, but senior Cam Ewert returned an interception 15 yards for a touchdown in the second quarter.
Both of Steele's quarterbacks – senior starter Jeremy Mendez-Gal and junior Elia Kirismasi – passed for a touchdown and ran for a touchdown.
Junior Colton Guerrero had five tackles, including one of three Cougar sacks. Juniors Ryan Magoon and Nathan Benitez also recorded sacks.
Senior T-Max Nyumah changed the complexion of the game when his hit knocked Mira Mesa's Elijah Thomas from the contest. He subsequently jarred the ball loose and recovered the fumble on one bounce.
Granite Hills senior safety Ethen Bishop had an interception, two forced fumbles, a fumble recovery and a mind-boggling 21 tackles last year's renewal of this matchup, while senior wide receiver James Johnson caught three passes for 51 yards in the contest for the Eagles.
After a 37-point third quarter, in which Granite grabbed the lead, neither team scored in the fourth quarter. Steele Canyon junior Wesley Neely scored the game's first touchdown on a 15-yard run.
Granite Hills and Steele Canyon have played some memorable games over the last two seasons.
The teams split a pair of games back in 2017, including a 28-27 semifinal win by the Cougars' in the San Diego CIF Division II playoffs at Valley Stadium.
However, the most memorable moment of the year came in the Eagles' 43-41 regular-season win at home in Week 3 as the late William Burton caught the game-winning touchdown with two seconds remaining in the game.
The Cougars' power ranking would likely indicate an edge for the visitors despite the Eagles' home field advantage but the intangibles in this series are sure to keep it close… STEELE CANYON, 24-21.
All games this week are at 7 p.m.
No. 21 Santana (6-0) at Mount Miguel (3-2) – The top two rated teams in the Grossmont Valley League will meet in a key opener which could be the game that eventually decides the championship.
Santana, which is the top-rated team in the section's Division IV, knocked off the top team in Division V, Vincent Memorial, 42-0, at Santee Community Stadium last Friday.
Senior Nathan Temple passed for three touchdowns, while senior Randy Smith was on the receiving end of two of them. The pair have combined for 13 touchdowns this season.
Senior Nick Valentine was named Homecoming King at halftime and had an interception in the game while junior linebacker Nick Brase had a fumble recovery, as the Sultans recorded their third shutout in the last four games.
Santana is outscoring its opponents, 245-32, this season.
The Matadors had their game against Sweetwater last Friday was shifted to Spring Valley because the Red Devils' turf needs to be replaced.
A home-field advantage probably wouldn't have mattered as the Matadors won, 41-26, behind junior quarterback J.D. Laverdiere's three passing touchdowns and three rushing touchdowns.
Senior receiver Jahiem Allen-Pompey should get serious consideration as an All-CIF performer. He has 41 receptions for 989 yards and 12 touchdowns heading into league play.
Allen-Pompey was featured on the front page of the local sports section on Thursday, touting his pace to set the section's single-season receiving yards record.
The Sultans have dropped seven-straight games in the series with their last win coming in 2002.
Santana is off to its best start since 2011 when it started 8-0.
Ironically, the Sultans' first loss that season came against the Matadors in Santee, 37-23, one of just two losses that season, the other that year coming against Valley Center, 20-14, in the Division IV championship game at Qualcomm Stadium.
This one is ticketed to be a score-fest… SANTANA, 42-38.
No. 14 Grossmont (4-1) at Valhalla (3-2) – The Norsemen defeated visiting Kearny, 20-12, on Homecoming last Friday night behind 236 yards and two touchdowns from senior Kegan Baker.
Baker, part of the Homecoming court along with teammates Ethan Ferkich and Mohammed Jaafar, received his first scholarship offer earlier that day from Western Colorado University.
Nattalia Kalla was the Homecoming Queen, while Noor Behnam was announced as the King.
The Komets scored first but Norse junior quarterback Luke Pillsbury completed a 40-yard touchdown pass to junior Gavin Nagel.
Valhalla's defense was led by Ferkich, who had 13 tackles, a fumble recovery and a blocked field goal. Sophomore Giovanni Alejo added an interception, a forced fumble and a recovery for the Norsemen.
Grossmont was dealt its first loss of the season by Madison, 34-13, in a game that the Warhawks led just 6-3 at halftime.
Madison recovered four Hiller fumbles and stopped Grossmont twice inside the 10 in the first quarter.
Foothiller senior quarterback James Odom had 261 yards of total offense, including 118 yards rushing and an 11-yard touchdown run.
Senior Cameron Sanderlin blocked a punt for Grossmont, which has defeated Valhalla in each of the last three seasons, including a 51-7 win last season.
Senior receiver Brody Schicker caught two of four touchdown passes from Odom in last year's mashup at Mashin Stadium.
Valhalla will likely qualify for the playoffs with just one Grossmont Hills League win this season.
The Foothillers are considerable favorites here despite going on the road but the Norsemen will be shooting for a signature win… GROSSMONT, 35-27.
El Cajon Valley (3-2) at West Hills (3-2) – The Wolf Pack rekindled their fire for a Grossmont Valley League title run by winning the Tony Burner Memorial Trophy for the first time last Friday thanks to senior twin brothers Kole and Kip Klingerman.
Kole Klingerman threw a touchdown pass to his brother on an option play, then caught the decisive score on a diving catch in the back of the end zone with 3:38 left in the fourth quarter from senior quarterback Gerardo Hernandez as West Hills rallied to defeat El Capitan, 24-14.
The game was tied, 7-all at halftime.
Senior Steven Cristini returned an interception 101 yards for a touchdown with under 30 seconds left in the game to take the hardware back down the 67 and across the 52 to west Santee.
Cristini also had a 20-yard run which set up a 31-yard field goal by Elijah Mullett, and he also had a 50-yard kickoff return.
The West Hills defense, led by senior Jake Maheu's 17 tackles, limited El Capitan to just 69 yards passing.
This week, the Wolf Pack will host the Braves on Homecoming. Maheu and Cristini will represent the football team on the Court.
West Hills can't afford an upset at the hands of El Cajon Valley if it is to qualify for the postseason in Division III.
The Braves had a bye last week but stars Clarence Johnson and Ke'von White took in the Madison win over Grossmont.
El Cajon Valley has dropped two-in-a-row but isn't lacking in confidence.
Johnson and Martin both admitted last Friday to looking forward to competing in all four upcoming GVL contests and expect to be a factor in the league chase.
West Hills won last year's contest, 47-13, in Santee, limiting ECV to just five yards rushing. Kole Klingerman had three receptions, including one for a touchdown in the game, while Kip blocked a punt.
Johnson, a junior receiver, caught a pair of touchdown passes in the game last year and finished with 147 yards receiving. He also had five tackles on defense.
This year's matchup should be considerably closer, although the Braves will have to force their own breaks against a Wolf Pack unit that does a stellar job protecting the ball… WEST HILLS, 28-16.
El Capitan (0-5) at No. 1 Helix (4-1) – The Highlanders will host Homecoming against the Vaqueros at Hart Stadium.
Helix was expected to get a challenge from perennial state power Oaks Christian, of Westlake Village, last Friday but that hardly materialized.
Instead, former Helix great Ezekiel Noa saw his younger brother Elelyon rush for 276 yards and four touchdowns in a 42-17 win over the Lions. Elelyon had a 58-yard touchdown rush on the first play from scrimmage.
Zeke Noa, unfortunately, saw his sophomore season at Boise State come to an end last Friday when he sustained a torn ACL and broken wrist in a win over Air Force. He had already posted a career-high 10 tackles through three quarters when the injury occurred. The timing of the injury may allow Noa a sixth-year of NCAA eligibility.
Seeing Elelyon, along with his freshman brother, Ezriel, play in the same game, had to brighten his spirits.
Helix senior Keionte Scott had a touchdown reception and an interception, while senior quarterback Kamryn Brown had another extremely efficient game, going 11-of-15 for 143 yards, including a touchdown pass to senior Timothy Christopher.
El Capitan senior quarterback Wick Hauser had 170 yards of total offense rushed for two touchdowns last week to help the Vaqueros to the lead against the Wolf Pack.
Senior running back Donny Green finished with 118 yards rushing for El Cap in the loss.
Linebacker Jacobo Villa nearly made the game-saving play for the second-straight season when he had a third-down sack and forced a fumble that West Hills won the scramble for.
The recovery set up the Pack's decisive touchdown pass on the next play or the Vaqueros would be in the win column.
El Capitan trailed just 13-7 after the first quarter last season before Helix pulled away for a 41-7 win behind five touchdowns from Fatto Noa… HELIX, 49-7.
Chula Vista (0-6) at Monte Vista (1-4) – The Monarchs are four points away from being 3-2 this season.
Monte Vista nearly defeated Imperial on the road two weeks ago, but the Tigers stunned the Monarchs with a long touchdown pass in the fourth quarter.
Senior Xavier Leyva had a 16-yard touchdown reception from senior quarterback Ruben Silva, and senior running back Isaiah Gardner had a 65-yard touchdown run, as the Monarchs led Imperial, 17-7, at halftime.
Junior Brandon Deacy kicked a 39-yard field goal in the first half for MVHS.
The Monarchs are currently outside of the Division II playoff picture so they can't afford a loss here to the lowest-rated team in Division IV but the Spartans still would need an extraordinary effort.
Chula Vista already has losses to GVL clubs Mount Miguel (44-7) and West Hills (34-14).
The Spartans go down firing behind junior quarterback Omar Perez, who has nearly 1,000 passing yards this season.
It was just two years ago that these two met in a Division IV overtime playoff game, won by Monte Vista, 29-28… MONTE VISTA, 28-14.
University City (1-4) vs. Christian (3-2) (Sat. at Valley Stadium) – This game features a pair of Division I-potential quarterbacks in Christian High junior Gabe Krug and University City senior Gunnar Gray.
Gray, who has received interest from five Pac-12 schools, was invited over the weekend to participate in the Blue-Grey All-American Bowl series, while Krug has a scholarship offer in-hand from Arizona State.
Krug rushed for 107 yards and two touchdowns, including a 48-yard game-clincher in the Patriots' 31-28 over visiting Central Union two weeks ago, just the Spartans' fifth loss in their last 30 games.
The Patriot signal-caller has had success behind the offensive line of Eric Markowicz, Yaya Owens, Andrew Carlock, Nathan Wells, and Cole Bryant.
Senior Jack St. Fleur had a 92-yard kickoff return to open the game.
The Centurions' mark has to come as a surprise. Valhalla defeated UC to open the season, 34-20, in El Cajon.
Gray has nearly 1,300 yards so far this season, while former Grossmont Foothiller receiver Skip Waltower has 30 receptions for 360 yards.
The Patriots defeated University City in back-to-back games last season, including a 42-41 Division III home-playoff win with a touchdown with 3.8 seconds remaining in the game… CHRISTIAN, 33-24.
Mountain Empire (1-4) at Hilltop (5-1) – The RedHawks will travel west to take on the red-hot Lancers.
The Red Hawks had a bye last week but were soundly defeated, 65-12, in a trip to Coronado two weeks ago. Despite trailing just 8-6 after one quarter, the Islanders scored 42 points in the second quarter.
Hilltop has wins over Grossmont Conference outfits Valhalla (27-13) and El Capitan (47-41)… HILLTOP, 56-7.
Calvary Christian (0-4) at Foothills Christian (6-0) (8-man at Seau Field) – The Knights, unfortunately, didn't get to play a game last week, taking a forfeit win from the Julian Eagles.
Foothills Christian defeated Calvary, 68-0, last season behind then-junior Tony Mroz's three touchdown passes and one rushing touchdown.
Junior Blake McIntyre had two touchdown receptions from Mroz in last year's win.
---
Did you enjoy this story by Ramon Scott? Consider donating to Ramon directly…