Patriots dominate Marauders, go to 2-0
Updated: October 13, 2019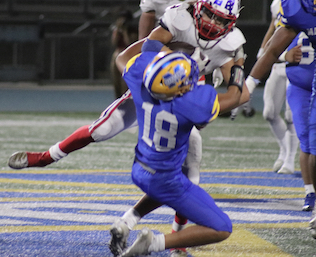 Christian runs over Mira Mesa on Friday night. / photo by Andy Fierro
2019 EAST COUNTY PREP FOOTBALL
CHRISTIAN 28, MIRA MESA 10
EastCountySports.com staff report
MIRA MESA – The Christian Patriots dominated their Eastern League game with Mira Mesa on Friday night, bringing home a 28-10 win to improve to 2-0.
Senior Nate Stine rushed for 95 yards and three touchdowns.
Patriot lineman Alonzo Glenn had three sacks.
Fellow teammates Alex Markowicz, Van Nevling, and Elio Myers, each had one sack apiece.
"Coach (David) Beezer, coach (Matt) Oliver, and coach (Jon) Stine, in particular, have really helped me feel welcomed and Stine has especially helped me improve my craft," Glenn said. "My standout brothers on the team have really assisted me with improving my play as being great teammates on the field. Todd Beezer, Drew Young, and Christian Salacup just to name a few.
Christian High cornerback Carson Opper had a pair of interceptions.
The Patriots scored a touchdown in every quarter, with Stine getting short runs in each of the first three periods.
Stine had a 3-yard score in the first quarter, a 5-yard run in the second quarter, and a 7-yard TD in the third.
Mira Mesa scored a field goal in the second quarter, which closed the early led to 7-3.
Junior quarterback Gabe Krug rushed for a 5-yard touchdown in the fourth quarter for the final margin.
Krug had 140 yards of total offense, including 50 on the ground.
Christian receiver Christian Salacap had six catches for 54 yards.
Senior receiver Todd Beezer had three receptions for 33 yards for the Pats.
"We came out and really established the ground game early which assisted in a great balance with the passing game," Christian High offensive coordinator David Beezer said. "I'm proud of our kids and the dedication, time, and performance that transferred onto the field of play leading to a great team win."
Christian High (5-2) will host the Morse Tigers (4-3, 0-1 Eastern) next Friday at 7 p.m.
The Patriots are ahead of the Tigers in the CIF Division II power ratings. Christian entered last week third in Division II while Morse was sixth.
However, despite the slight disparity in records, the Tigers are the higher-rated team coming into the game in the computer rankings.
The Patriots and Tigers split a pair of games last season with Christian winning on the road 14-8 during the regular season only to drop a second-round game to the Tigers, 34-6, at Valley Stadium.
Morse rushed for over 375 yards in the playoff matchup and recorded four sacks.
---
Did you enjoy this story by Ramon Scott? Consider donating to Ramon directly…