Washington has Highlanders' back… in Open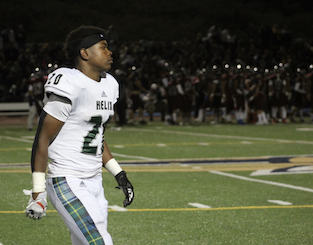 Helix sophomore Christian Washington rushed for 218 yards and four touchdowns on Friday night. / photo by Dave Dickens
2019 EAST COUNTY PREP FOOTBALL
HELIX 35, STEELE CANYON 23
BY JIM LINDGREN
Special to EastCountySports.com
SPRING VALLEY – With his mentor and friend hobbling along the sideline in a funky walking crutch, Christian Washington did what Elelyon "Fatto" Noa had done countless times over the past four seasons for Helix.
The 5-foot-10, 170-pound sophomore Washington pounded the inside running lanes and picked up extra yardage simply on guts and determination. He swept the corners with precision and speed and tiptoed the sidelines when needed.
Simply put, Washington carried No. 1-ranked Helix to a huge, come-from-behind, 35-23 win over No. 5 Steele Canyon on Friday night.
"That kid's really good," Steele Canyon coach Scott Longerbone said.
Sure, Washington had plenty of help from a big and talented offensive line, and the Highlanders defense adjusted well and played brilliantly in the second half, but it was Washington's four touchdowns and 218 rushing yards that gave Helix another championship in this battle for the Grossmont Hills League title.
Along with its ninth league title in the past 10 years, Helix (9-1, 5-0) likely secured the No. 1 seed in the Open Division playoffs. With No. 2 Cathedral Catholic (8-2) losing to Lincoln, Steele Canyon (9-1, 4-1) has an outside shot at the four-team Open Division but the Cougars will probably be the No. 1 seed in Division I.
"We were very fortunate to win this game," Helix coach Robbie Owens told his team in a postgame huddle. "I'm proud of you. That's not an easy accomplishment to come back like that against a great team like Steele Canyon."
Longerbone told his troops all week that this was the biggest home game in the 18-year history of the program. Steele Canyon won a state championship two years ago, but all six playoff wins came on the road. That team went 12-4. This group was hoping to give Steele its first unbeaten regular season.
This title tilt also drew the interest of CIF Executive Director Ron Nocetti, who flew down from Sacramento, to join San Diego Section Commissioner Jerry Schniepp, a Helix alum and former baseball coach, on the Helix sideline.
An enormous overflow crowd at Steele Canyon witnessed the Cougars take a 21-7 lead into intermission, and another upset appeared to be unfolding.
Steele Canyon beat Helix 22-21 last year in the regular-season finale at Helix to knock the Scotties out of the Open Division. (Both teams were edged by St. Augustine in the Division I playoffs; Steele, 28-21, in the quarterfinals and Helix, 21-20 in overtime, in the championship.)
"This was a big win," Washington said. "It felt really good because they beat us last year."
As they do so often and well after a sluggish start, Helix made some key adjustments at halftime and scored on its first three possessions to take a 28-21 lead.
"We came out with a different mindset in the second half," Washington said.
The offensive adjustment was to simplify things and give the ball to No. 20, who had rushed for 80 yards, including a 43-yard TD in the first half.
On the first drive of the second half, Helix ran eight plays with Washington getting seven carries for 64 yards, including a 1-yard TD to make it 21-14 with 6:22 in the quarter.
On the ensuing kick return, Alejandro Van Holten recovered a fumble at the 22-yard line. Washington then rushed for 7 yards, Delshawn Traylor carried for 6, and Washington finished it with a 7-yard bolt up the middle to tie the game 21-21.
Steele Canyon's Chris Carter had a 35-yard run on the Cougars' ensuing possession, but the Helix defense stuffed the drive, and the Cougars missed a 37-yard field-goal attempt.
The Scotties then reeled off a good-ol'-fashioned 12-play, 80-yard drive to go on top for good at 28-21 after Washington notched his fourth TD, this one from 11 yards out after he had key pickups of 16 and 12 yards. Another key play – on third-and-16 – was Kamryn Brown hitting Scott for a 21-yard pickup after a spectacular leaping catch by Scott, who was covered well by Antoine Walker but still managed to get a foot down just inside the sideline.
"Christian Washington did a great job in the second half," Owens said. "He really ran with purpose, and we needed that."
The Scotties' Noa, arguably the best running back in the state and No. 5 all-time in career rushing yards (5,835) in the San Diego Section, injured his left foot four weeks ago and underwent season-ending surgery. He leaves Saturday for an official recruiting visit to Utah State.
Washington has now topped 100 yards in his last five games and set personal bests with his 218 yards and four TDs. He now has 820 rushing yards and 14 TDs – three more than Noa had in six games, by the way.
It was a good week for Washington. Baseball's Nationals won the World Series with West Hills grad Stephen Strasburg earning MVP honors. Helix' Washington gets a well-deserved game ball for his performance against what many considered the best defense in the section – one that had allowed only 70 points in putting up a school-record nine straight wins.
In only his second start at quarterback, Steele Canyon's Elia Kirisimasi threw for 221 yards, completing 13-of-21 passes with one interception by Jaiden Brown on the final play of the game.
The Cougars forced the first break in the game with a fumble recovery by Luis Alvarado midway through the first quarter. Wesley Neely (17 carries, 98 yards) then rushed for 30 yards, and Kirisimasi lofted a 23-yard touchdown pass to Antoine Walker, who made a brilliant, one-handed grab with Helix star defender Keionte Scott draped on his back.
Steele Canyon threatened again on its next possession, but a fumble was recovered by the Scotties' Anthony Lombardo at the 14-yard line.
Midway through the second quarter, Neely ran for 13 and then 32 yards to set up a 1-yard QB sneak TD by Kirisimasi to give the Cougars a 14-0 lead.
Helix then went to Washington for four straight plays that went for 1, 13, 6 and finally 43 yards to make it 14-7.
Steele Canyon answered that with an 8-play, 80-yard drive capped by another 1-yard sneak by Kirisimasi. Key plays on the drive were an 18-yard pass from Kirisimasi to Carter and a 62-yard pass from Kirisimasi to Angel Almazan.
The second half kickoff was marred by a gruesome injury to Helix junior Andre Salcido, who writhed in pain with an apparent broken right upper arm (humerus bone). The game was delayed approximately 30 minutes while an ambulance was summoned.
Helix took over the game from there. The Scotties got a three-and-out on Steele's first possession, then reeled off three straight scoring drives.
The Cougars had a pair of chances to come back, but a missed field goal from 37 yards and a fumble at the 11-yard line after a 39-yard pass from Kirisimasi to Carter halted those.
After the fumble, Steele did get a safety tackle by Cameron Ewert to make it 28-23.
After the free punt, the Helix defense stiffened again and forced a punt.
Traylor then pulled off the play of the game to ice the game for Helix with a 53-yard TD pass to Jahari Hill. From the shotgun, Traylor dropped back and then scrambled back about 15 yards, was almost sack and then escaped. He scooted to his left and sprinted toward the sideline. Just as he was about to be hit out of bounds for a loss, Traylor made an acrobatic jump pass upfield about 10 yards to Hill, who turned and raced untouched for the score.
The Scotties' John Carroll then got his second sack, followed by another sack by Tyler Tucker, followed by an interception by Jaiden Brown.
Jaiden's brother, Kamryn Brown, had a tough time passing against the Steele Curtain defense with Walker, Chance Johnson, Colton Guerrero (interception), Thomas Max Nyumah, Ewert and Alvarado providing tenacious coverage in the secondary.
Brown finished 5-of-14 passing for 58 yards. Traylor was 1-for-1 for 53 yards and a TD.
Washington and Traylor (8-47) were the only ballcarriers for Helix until Brown took a knee in victory formation. After a slow start, Helix finished with 374 total yards as the offensive line paved the way with Cezer Valdez, Leandre Rayle, Noah Viloria, Shawn Martinez and Lombardo.
Helix is now 48-2 in league games over the last 10 years. Its only league losses in that span were to El Capitan in 2014 and to Steele Canyon last year. Since 2004, no league foe has beaten the Highlanders in consecutive years since Monte Vista turned the trick in 2004 after a win in the 2003 playoffs.
The Highlanders are assured of a bye next week and a home game on Nov. 15 in the Open Division. Steele Canyon will likely get a bye as well in the 12-team Division I playoffs and a home game on Nov. 15.
HELIX 35, STEELE CANYON 23
Helix         0  7 14 14 – 35

Steele Canyon 7 14  0  2 – 23
SC – Antoine Walker 23 pass from Elia Kirisimasi (David Martinez kick)
SC – Elia Kirisimasi 1 run (David Martinez kick)
H – Christian Washington 43 run (Elijah Laing kick)
SC – Elia Kirisimasi 1 run (David Martinez kick)
H – Christian Washington 1 run (Elijah Laing kick)
H – Christian Washington 7 run (Elijah Laing kick)
H – Christian Washington 11 run (Elijah Laing kick)
SC – Safety, Christian Washington tackled in end zone by Cameron Ewert
H – Jahari Hill 53 pass from Delshawn Traylor (Elijah Laing kick)