Braves run and Hyde for playoff win
Updated: November 9, 2019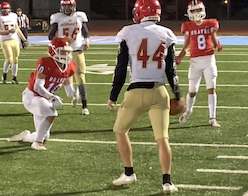 El Cajon Valley and Mountain Empire on Friday night.
2019 EAST COUNTY PREP FOOTBALL
SAN DIEGO CIF DIVISION V PLAYOFFS – FIRST ROUND
EL CAJON VALLEY 33, MOUNTAIN EMPIRE 0
EastCountySports.com staff report
EL CAJON – Damarius Hyde rushed for 169 yards and a career-high three touchdowns and the El Cajon Valley defense dominated in a 33-0 shut out of Mountain Empire in the first round of the San Diego Section Division V playoffs on Friday at El Cajon.
Hyde, a 5-foot-10, 185-pound junior, scored on runs of 36, 35 and 4 yards as the Braves won their first playoff game since 2014 and only their second since 2005.
El Cajon Valley was 0-10 last year and 2-9 in 2018 and had not won a game on the field (there was a forfeit win) in 17 straight games entering this season. Under second-year coach Nick Osborn, the Braves opened this season with three straight victories before losing their next seven games, including all four in the Grossmont Valley League.
But Friday's win was quite decisive and puts the No. 8-seeded Braves (4-7) in a quarterfinal game next week at No. 1 Vincent Memorial (9-1). The Scots beat El Cajon, 35-6, in Week 5 this season.
Mountain Empire (2-8) had bus trouble leaving Pine Valley and was late arriving to the game.
The Braves wasted little time getting going as Hyde scored on a 36-yard run for a 6-0 lead.
Clarence Johnson then scored on a 19-yard run on his only carry of the game to make it 12-0.
Joe Malone then tossed a 20-yard scoring strike to Jayden Barnett to make it 18-0.
Hyde scored two more times to give him 8 TDs on the season with 812 rushing yards.
"My O-line, give all my credits to them," said Hyde, who also had three punt returns for 63 yards and a forced fumble on defense.
It was Hyde's second-highest yardage output of the season. He had 194 yards and 2 TDs in a 20-19 win over Hoover in Week 2.
Malone rushed for 74 yards on seven carries and was 5-of-13 passing for 50 yards and a TD without an INT. Barnett caught three passes for 41 yards.
ECV rushed for 278 yards and had 328 total yards.
Mario Jacob led the defense with 8 tackles, 6 of them solo. Chalang Ahmad had 7 tackles, two fumble recoveries and a pass defense.
Johnson had a key interception and a fumble recovery, and Wendall Walcott a big sack. Brandon Blackburn and Hyde forced two of the fumbles.
Before Friday, El Cajon's last playoff win was a 49-34 triumph over Horizon Christian in 2014 under coach Norman Whitehead. The 2005 team under Jason Texler was 11-3 with playoff wins over Castle Park and Mira Mesa before losing to Oceanside, 31-21, in the Division II championship game at Qualcomm Stadium.
The result was El Cajon Valley's first-ever shutout in the playoffs.