Falcons get defensive after Pack score
Updated: November 16, 2019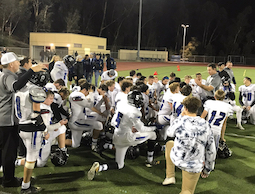 2019 EAST COUNTY PREP FOOTBALL
SAN DIEGO CIF DIVISION III QUARTERFINAL
SCRIPPS RANCH 42, WEST HILLS 7
EastCountySports.com staff report
SCRIPPS RANCH – The West Hills Wolf Pack stunned the county's stingiest defense with a near-perfect opening touchdown drive in Friday night's San Diego CIF Division III quarterfinal against the host Scripps Ranch Falcons.
But undefeated, top-seeded Scripps Ranch made sure it didn't happen again in a 42-7 win over the ninth-seeded Wolf Pack.
Junior running back Nicholas Gardinera rushed for 131 yards and four touchdowns for a Scripps Ranch team that will play in a division semifinal for just the second time, aiming for a first-ever berth in a section title game.
The Falcons will host the fifth-seeded Central Union Spartans, who were 30-26 winners over fourth-seeded host San Diego High on Friday night, in a Division III semifinal next Friday at Scripps Ranch High
Scripps Ranch (11-0), which has allowed the fewest points in the section this season with 64, had two interceptions, a forced fumble and recovery, and a pair of sacks to dominate after that wake-up call on the first series.
West Hills scored on its first drive, taking 4:25 off the clock, with an 11-play, 80-yard march, highlighted by a pair of option passes from Kole Klingerman to Steve Cristini – one for 22 yards on the first play of the game, and the other a 3-yard toss for a touchdown.
The Falcons' initial drive was just as impressive – a 13-play, 90-yard series that was engineered by Gardinera, who carried eight times for 49 yards on the march.
After senior Joey Murgo made a third-down interception to stop West Hills' second time with the ball, Gardenera capped a 30-yard drive with a 7-yard score to make it 14-7.
The Wolf Pack, a disciplined team that has enjoyed much of its success this season by taking care of the football in grind-it-out games such as this, turned it over for the second time in three series when senior Jack Fine forced the ball out of a carrier's grasp and senior end Joshua Boamah recovered it, again at the West Hills 30.
Gardinera scored from nine yards out to convert the miscue once again and take a 21-7 lead with eight minutes to play in the first half.
West Hills took a needed drive to the Falcon 30 late in the first half, but Boamah had a fourth-down sack to terminate the possession and send Scripps into the locker room with a 14-point halftime lead.
The Falcons scored on their opening drive of the second half, easily moving the Wolf Pack aside for an 80-yard touchdown drive on eight plays, which ended on a 10-yard pass from junior Luke Durkin to senior Grant Norberg.
West Hills' last-ditch effort came midway through the third when they tried to convert a fourth-and-2 from its own 25, but junior Riley Merrigan tracked down a horizontal run that never got started.
The tackle-for-loss resulted in son Gardinera's fourth touchdown of the night – a 20-yard score with 5:14 in the fourth that increased the lead to 34-7.
Durkin finished up the scoring with a 3-yard run on the first play of the fourth quarter.
Senior Deandre Mackey has a sack and senior Josh Manivone had an interception in the fourth quarter for Scripps Ranch.
Senior Josh Alagata had a sack for West Hills (7-5), while senior teammate Parker Bell had a tackle-for-loss on the first series of the game.