GIRLS: Braves are only local winner
Updated: November 23, 2019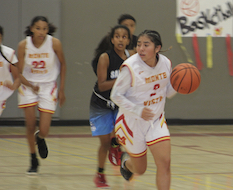 Monte Vista sophomore Samantha Gonzalez dribbles against San Diego on Friday. / photo by Dave Dickens
2019 EAST COUNTY PREP GIRLS BASKETBALL
EastCountySports.com staff report
SPRING VALLEY – Monte Vista sophomore star Meadow Delino went down and so did the Monarchs' chances against the San Diego Cavers on Friday evening.
Tournament host Monte Vista dropped a 54-47 contest to the San Diego Cavers in a Monte Vista Monarch Classic game.
"I was going to steal the ball but I landed on a girl's foot and my ankle twisted," said Delino, who had 12 points in the first half before the misstep just a few possessions into the third quarter. She tried to return but it happened again.
Monte Vista led 18-13 after one quarter, as Delino and fellow sophomore Sam Gonzalez scored all the points.
"Tonight was a night of adversity that we couldn't overcome," Monte Vista head coach Sabrina Jimenez said. "Early foul trouble and injuries plagued us and we struggled to keep our energy up."
However, the Cavers led 28-27 at intermission and used a 14-10 advantage in the fourth to secure the win.
"I feel like our momentum slowed down," Delino said of her departures. "In some cases, my teammates really did step up, which I'm proud of, but we need to learn how to play without certain teammates and be able to pull out wins together."
The Monarchs fell to 1-2, as the Cavers won their second game in two starts.
"When I went down the first time we were still doing well, and we were keeping it going," Delino said. "But then my injury happened again and that's what brought down the momentum."
Gonzalez finished with 18 points, including a three-pointer, for Monte Vista. She also had four assists.
Sophomore Destiny Smith had 15 points, including a trey, and eight rebounds and five steals.
Delino finished with 12 points.
Jourdan Barber had eight rebounds, six steals, and three blocks.
Lina DeLeon, a freshman, had six steals and four rebounds.
"We had to make a lot of adjustments offensively and defensively," Jimenez said. "The other team took advantage by capitalizing on our missed rebounds and were able to score off of second chance opportunities. Maya, Lina, and Destiny stepped up, but we fell short as a team."
EL CAJON VALLEY 44, CALIPATRIA 16 – Senior Vean Gorgees scored 18 points, grabbed seven rounds, handed out seven assists and added four steals for El Cajon Valley, which won for the second time in as many outings in a Monte Vista Showcase game.
The Braves have allowed just 34 points over their first two games.
Senior Tarry Flournoy and junior Fineita Taulanga both scored 10 points for the Braves. Taulanga had 12 rebounds, while Flournoy added 11 boards and recorded three steals.
Freshman Ruth Taulanga had nine rebounds, while sophomore Paulina Pelayo added seven boards.
The Braves will face the Southwest Eagles, of El Centro, on Monday.
MT. CARMEL 62, SANTANA 39 – The Sundevils won against the Sultans after leading 35-13 at halftime.
"Honestly, the out hustled us" Santana senior captain Lakaila Aguiningoc-David. "They played faster and at their pace.We need to slow the game down in our head all while speeding it up physically.
Brianna Jerig led Santana with 16 points.
"It's always a little more difficult being on the road and it was evident that we hadn't been playing to our full potential until the second half of the game," Jerig said. "I should've really picked up my defense in the first half. I need to get more shots up and get more consistent in more spots on the floor.
"I feel that overall we played a better game against Mount Carmel although the first quarter was pretty rough, we definitely picked up the energy.
"There's plenty of things we need to work on but I would say a key adjustment we need to make is finishing at the hoop especially when we go for easy layups and also breaking a press and scoring in transition rather than trying to set up a play every time we come down."
The Sultans fell to 1-1 on the season and will face Mar Vista next Saturday.
"I think we have great potential," Aguiningoc-Davis said. "I also think that we need to put in a lot of hard work to get where we want to be. They are eating us apart on defense and we need to do better.
"I believe that the only thing holding us back is ourselves. We need to push each other more to be better. In order to beat these quality teams we are playing, communication is probably the biggest thing that is going to help."
SOUTHWEST 46, GRANITE HILLS 35 – The Eagles defeated the Eagles in a Monte Vista Showcase game.
What is was, however, was the Southwest Eagles improving to 2-0, while handing the Granite Hills Eagles their first loss in three starts.
IMPERIAL 51, EL CAPITAN 48 – The Tigers defeated the Vaqueros in a non-league game involving Division I teams in the I.V.