Unranked? Matadors roll in season opener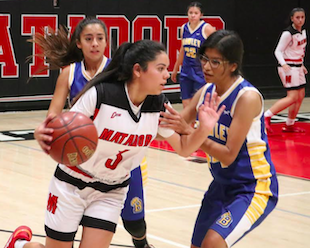 Mount Miguel freshman Zanna Hurst is guarded by Brawley on Tuesday. / photo by Thomas Ringer
2019 EAST COUNTY PREP GIRLS BASKETBALL
MOUNT MIGUEL 63, BRAWLEY 18
By Thomas Ringer
Special to EastCountySports.com
SPRING VALLEY – The Brawley Lady Wildcats traveled the long 118.2 miles down Interstate 8 to face the new and improved Mount Miguel Lady Matadors on the Matadors' home court, but the Wildcats were soundly defeated, 63-18, on Tuesday.
This was the first contest on the schedule for Mount Miguel, which is in a rebuilding process this year.
After outstanding guard Citlalli Gurrola committed to the University of Nevada-Las Vegas and junior Sylena Peterson transferred to Bonita Vista High School, the new Matadors turned to the youth of the school with three starting freshmen on the varsity squad, Ixchel Rojo, Jennifer Moreno, and Zanna Hurst.
In the first half, the Matadors outscored the Wildcats 35-11. The Wildcat' would score only seven more points for the remainder of the game. In fact, during the third quarter, the Matadors went on an 18-0 run against the Lady Wildcats.
The third quarter finished with Mount Miguel scoring 21 points and the Lady Wildcats scored three points.
"Being in my first High School game, I was very nervous, but warming up and going into the game it all felt natural and I felt I could play to the best of my own ability," Rojo said. "This is not our full potential. We are capable of much more than just this win. We work hard and it will show soon."
Rojo shows leadership because she wants the absolute best for her high school basketball club. She finished the night with 17 points, including three three-pointers, along with six rebounds, eight assists, five steals, and three blocks.
Matador Jacquee Brown finished the game with 10 points, four rebounds, two assists, and three steals.
"I was ecstatic going into this game," Brown said. "I have been waiting for what seems like an eternity to get back on the court. Our team plays as a team, never individually for ourselves. It is always for each other. Our chemistry is as strong as ever."
Another freshman showing a sunny future in the Red and Black of the Matadors is Moreno.
Moreno walked off the court with 22 points, including three three-pointers, along with a rebound, an assist, and five steals.
"Going onto the court I had been nervous for my first high school game but when we got out there and started playing as we do, the butterflies had flown away," Moreno said. "Though this had not been our potential that we are capable of, I believe that we are going to shine in our division."
The rest of the starting five included Jerzey Edmonds, with four points, two rebounds, an assist, and a steal, along with Hurst, the third starting freshman, who scored 10 points, including two three-pointers, three steals, and a block.