Patriots down Griz; Monarchs win late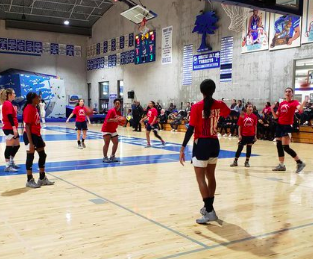 Christian High warms up for its game on Wednesday night at La Jolla Country Day.
2019 EAST COUNTY PREP GIRLS BASKETBALL
EastCountySports.com staff report
LA JOLLA – The third-ranked Christian Patriots defeated the fifth-ranked Mission Hills Grizzlies, 60-43, in a Top 5 county matchup at the La Jolla Country Day Sweet 16 Invitational on Wednesday night.
It was the first game of the season for the Patriots. Sixteen teams from several states are competing in the four-day event.
Senior Simone James had 17 points, while senior Allie Carreon and junior Kristin Williams both finished with 12 points for CHS.
Mission Hills led 11-10 after one quarter, although the Patriots had four players score in the quarter, including three-pointers by Carreon and freshman KoKo Akridge.
Christian, however, rolled off 18 points in the second quarter, including a 6-0 individual scoring run by Carreon to give the Patriots the lead, 28-19, at the half. The Pats built a 26-11 lead five minutes into the period.
Christian led, 50-28, at the end of three quarters, as Williams had a three-pointer which game CHS a 35-21 lead during the frame. Williams also canned a three late in the period for a 48-25 advantage.
The Patriots advance in the bracketed event to a game tonight at 8 p.m. against either Millenium High, of Goodyear, Ariz., or Lakeview (Colo.) High. That matchup is scheduled for 10 a.m.
MONTE VISTA 41, MAR VISTA 39 – Monte Vista sophomore Samantha Gonzalez scored 21 points, including a key three-pointer in the fourth quarter as the Monarchs held off the winless Mariners on Wednesday at Mar Vista High for their third consecutive win.
However, it was senior Jourdan Barber who hit the critical game-winning field goal to prevent the game from going into overtime and lift the Monarchs.
Gonzalez grabbed a late rebound and took off in transition. She spotted Barber for her game-winning opportunity.
"When they hit the three-pointer on us, we didn't give up at all. I got a rebound and I took off. I saw Jordan open and passed it to her and she made it for the win."
Mar Vista rallied from an early double-digit deficit to eventually tie the game with a three-pointer with just 20 seconds remaining.
"It felt rewarding to support my team," Barber said. "When Mar Vista scored to tie the game, we had to really focus and communicate with one another in order to win. Making the last two points of the game made me feel accomplished and extremely happy. It feels good to be an asset to my team. Hopefully, there will be more wins to come."
Gonzalez and senior teammate Vanessa Braun both scored six points in the first quarter as the Monarchs jumped out to a big 18-0 lead and led 18-5 after one quarter.
"I am very proud of our team and our current winning streak," Braun said. "We all worked very hard tonight, especially Samantha Gonzales, who stayed in the whole game and scored most of our points."
Braun had 15 rebounds to lead Monte Vista, while Barber had nine boards.
"This was a good win for us, but it was very close,"Braun said. "This game highlighted our need to maintain our leads and how we can improve offensively. Defensively, we are very strong, and we know how to force turnovers. It's reassuring for us to be winning games despite our missing (injured players. It shows that not only do we all work hard but that we have resilience."
As the Mariners continued to whittle the lead down, Gonzalez kept pouring in crucial points. She had nine points in the third quarter.
"We missed some layups and that helped them catch up to us," said Gonzalez, who also had seven rebounds and three assists. "I put up some points and that helped us, but at one point, my shots were not going in and that's when my teammates – Vanessa, Jordan, and Lina (DeLeon) – were scoring and making some great rebounds We work hard as a team.
Monte Vista, which improved to 4-2, will host High Tech Chula Vista on Friday at 6.
"Our defense kept us in the game," Monte Vista head coach Sabrina Jimenez said. "After that first quarter, we struggled to score. Jourdan and Vanessa worked aggressively on the boards and limited Mar Vista's second opportunities.
"Sam played every minute and showed no weakness. That girl has been stepping up and leading our team. She is such a strong asset to our team."
LINCOLN 61, GRANITE HILLS 26 – The Hornets improved to 2-0 by blitzing the Eagles in a Matador Classic game at Lincoln High.
Granite Hills fell to 3-4. The Eagles will play at Ramona in a tournament contest on Saturday at 7.
Imani James led the Hornets with 23 points, while teammate Jada Hughes added 14.
WESTVIEW 73, GROSSMONT 26 – The Wolverines won the Excalibur Tournament game at San Marcos High over the Foothillers, who lost for the first time in three starts.
Grossmont will meet Vista Murrieta High (5-2) on Thursday at 5:30 in another Excalibur Tournament game at San Marcos High.
HELIX at OLYMPIAN – The Highlanders led 31-28 but the Eagles eventually rallied to take a 52-51 lead in the fourth quarter. No other details were reported.