GIRLS: Vaqueros step up at Holiday Classic
Updated: December 27, 2019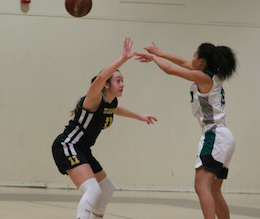 El Capitan's defends against Poway on Thursday. / photo by Dave Dickens
2019 EAST COUNTY PREP GIRLS BASKETBALL
EastCountySports.com staff report
LAKESIDE – The El Capitan Vaqueros continue to make great strides in the right direction.
The Lady Vaqueros defeated the Poway Titans, 50-34, at the SoCal Holiday Prep Classic's NCAA East Division on Wednesday.
The Vaqueros started briskly, outscoring Poway, 17-10, in the opening quarter.
But in the second quarter, El Capitan turned it up a notch defensively, holding the visitors to just three points, taking a 29-13 lead into halftime.
Sophomore Tiffany Bickford added a season-high 11 points for the Lady Vaqueros.
Bickford had a trio of three-pointer in the contest, two of them coming in the opening period.
It was the first game for the Lady Vaqueros since Dec. 14.
El Capitan improved to 5-5 on the year.
El Capitan will face a team from Hayward on Friday at the event in a game played at El Capitan High School.
We definitely needed the break to regroup and fix the flaws in our defense and especially the flaws in the offense. We spent a lot of time in the gym during this break breaking down every single part of our game as a team and it was what we needed. Our start to the season wasn't exactly how we wanted it to go but we're fixed a lot of major issues in our play and it definitely showed tonight. The bigs – Emma Driskill and Jacey Danks – stepped it up a ton to lead our team to our win tonight. Everyone was hitting their shots and we were looking to get each other open and not trying to play one-against-the-world. During the break, all of the guards especially worked on our shot and it showed and in general we all just shot well. Our defense has come a long way since last year and I know we take a lot of pride in it because we know that defense will lead us to winning championships. Overall this game really showed ourselves and others that we can compete with high level competition and still stay true to our own game – Tiffany Bickford
Junior Shiana Peres finished with seven points, including a three-pointer in the third quarter.
"It was a great win. I'm very proud of how the girls played tonight. We have mostly been working on defense and getting the defensive rebounds and pushing to get those layups. Our communication went down in the second half tonight and Poway got a few points. If it wasn't for Emma and Jacey we probably wouldn't of won tonight. They both had a mission tonight and that was to stop there big player, which they did. I'm very proud of them. Mackenzie and I have rules on the team as a leader. I have tried to step into (injured star) Jordan (Grandy's) shoes as a leader on the court. Mackenzie and I have been playing together for a good six years now and we have learned to read the court and learn from our mistakes. i would say that there's a little bit we need to work on and that's offensive drive and kicks but that comes from me as the point guard. – Shiana Perez
Junior Mackenzie Curtis led the way with 21 points for El Capitan. Curtis had a three-pointer in the first quarter.
Tiffany has stepped it up in practice this past week and in the game. She will be the reason why our team goes to the next level. Shiana is getting more consistent, and Emma Driskill went to a whole new level tonight. I'm super proud of her. She killed it on the boards and Stephanie Yeakle has been a huge relief for our team because of the fact she has a growing court awareness. I think these girls came ready to play tonight despite it being over a week since our last game. – Mackenzie Curtis
MIRA MESA 30, SANTANA 28 – The Marauders knocked off the Sultans at the SoCal Holiday Prep Classic's Prep Division at Santana High.
The Sultans fell to 3-9 on the year, while the Marauders improved to 3-9.
Bella Terry had nine points, 11 rebounds and three blocked shots for Santana.
Taylinn Warren had eight points and four rebounds, and three steals for the Sultans.
Briana Jerig had five points and five steals for Santana.
The loss definitely hurt, especially since it is one that we could've taken.  My team can be great, we have a lot of potential, but our turnovers are holding us back.  We need to take care of the ball.  At this point, that is what determines if we win or lose.  It's not a matter of playing harder, it's a matter of playing hard like we can consistently.  We take too many plays off and we get careless.  I will continue to play hard and will continue to push my teammates to do the same.  We will all continue to work hard and get ourselves ready for league. – Lakaila Aquiningoc-David
Aquiningoc-David, a senior captain, is the Sultans' point guard.
Lakaila, was huge for us tonight. She makes big plays and exerts her will on the defense. We struggle collectively doing that by allowing pressure to force us into bad decisions.

I was very impressed with our defensive effort. We communicated as a team and committed to 30 seconds of solid defense followed by tough boxouts.

The ability of a team to win close games is a staple in a championship program and we aren't quite there yet. As I said last year, growing pains that are only making us stronger as a team. – Santana head coach Jordan Franey
SHADOW RIDGE 58, MOUNT MIGUEL 50 – At the SoCal Holiday Prep Classic NCAA West Division at Mount Miguel High, Mount Miguel freshman Jennifer Moreno scored 26 points, grabbed five rebounds and had four steals, but the Matadors fell to the Mustangs from Nevada.
Freshman Ixchel Rojo added 12 points, had eight rebounds and recorded six steals for the Matadors.
Meanwhile, a third freshman, Zanna Hurst, had four points and five rebounds for Mount Miguel.
OUR LADY OF PEACE 46, STEELE CANYON 24 – The Cougars fell to the Pilots at the Baron Classic at Southwestern College.
The Lady Cougars fell to 0-9 on the season, while OLP improved to 7-8.
HOOVER 51, LIBERTY CHARTER 40 – At the Gold Crown Holiday Tip-Off, the Cardinals defeated the Lions
Hoover led 23-22 at halftime.
Liberty Charter's Maria Guatane had a field goal in the opening minutes of the third quarter that tied the game at 25-all.
Then, following a Hoover basket, Katie Peet tied the game with a field goal.
The Cards took the lead again midway through the third quarter, the LCHS' Anabelle Shaba tied the game at 29-all with a field goal.
Hoover led 34-29 after three quarters.
Liberty Charter's Sabrina Espelet scored the first bucket of the fourth quarter, as the Lions pulled to within 34-31.