Knights win; Hillers defeat Monarchs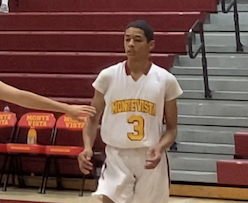 Monte Vista's Ivan Maynard. / photo by Dave Dickens
2019 EAST COUNTY PREP BOYS BASKETBALL
EastCountySports.com staff report
CARLSBAD – The second-ranked Foothills Christian Knights improved to 2-0 in the Coastal League with a 79-56 win over host Army-Navy Academy on Tuesday night.
Senior Jalai O'Keith had 17 points and nine rebounds for FCHS.
Junior Nico Meza added 16 points for the Knights.
Yale-bound senior Yassine Gharram had 13 points, eight rebounds and six assists for Foothills Christian, which improved to 11-5 overall.
Sophomore Jaden LeBel added 12 points for Foothills.
Junior Derrien Carter-Hollinger had six points, 11 assists, and 10 rebounds for the Knights.
Foothills Christian is scheduled to face Orange Glen on the road in a Coastal League game on Wednesday.
GROSSMONT 62, MONTE VISTA 45 – Brandon Tully and Ivan Maynard both had 13 points for the Monarchs, who scored just four points in the first quarter.
Tully grabbed eight rebounds.
Niamiah Alston had six points and three steals for Monte Vista, which fell to 9-7 overall.
Deron Whitley added five points and three assists for MVHS.
No stats were reported for the short-handed Foothillers, who improved to 7-6.
Monte Vista will face Calexico, the top-rated team currently in Division IV on Wednesday. The Bulldogs won an earlier meeting against the Monarchs, 60-53, back on Dec. 14 at Grossmont High.
Grossmont will open the Grossmont Hills League season at Steele Canyon on Friday.
LIBERTY CHARTER 77, HIGH TECH NORTH COUNTY 44 – Senior James Zuniga scored 19 points, junior Jonah Belprez added 18 points, and junior Jayden Swanson added 17 points for the Lions, who improved to 4-8 by defeating the winless Raptor.
Swanson and Belprez both had 15 rebounds for LCHS, while junior Tyler Snell grabbed 10 boards.
The Lions blocked 15 shots in the game.