BOYS: Matadors win under new coach
Updated: January 15, 2020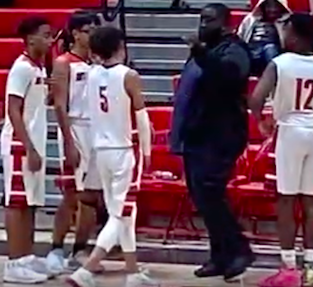 New Mount Miguel head coach A.J. Stanford / photo by Dave Dickens
2020 EAST COUNTY PREP BOYS BASKETBALL
EastCountySports.com staff report
SPRING VALLEY – The Mount Miguel Matadors upset the El Capitan Vaqueros, 63-62, on Thursday making a first-time winner out of interim head coach A.J. Stanford.
Stanford was a standout on the Matadors' 2010 San Diego CIF Division III championship team, which was guided by the previous Matador coach Jay Rowlett.
Mount Miguel won the Division III title two seasons ago but was off to a 1-11 start this season before Tuesday's home win.
Rowlett was a proven winner, with a reported 247 wins to his credit with the Matadors. He led the team to three section title games, including back-to-back seasons in 2017-18.
Three Matadors scored in double figures and the team combined for nine three-point field goals.
Sean Marks scored 25 points, including seven in the fourth quarter, to help the Matador rally.
John Brooks had 14 points, including four in the fourth quarter for Mount Miguel. His steal right near his own basket and subsequent bank shot from in the paint with one second left was the difference.
Senior Dominic Morales recorded a steal and got the ball to Patrick Chima for a layup as the comeback was in motion.
Jake Coulter had a three-pointer for Mount Miguel as the momentum built.
"I thought we played a quality basketball game in a few phases," El Capitan head coach Elias Totah said. "We just needed to guard the three-point line a lot better tonight."
The score was 34-all at halftime but El Cap took a 45-44 lead on a jumper by Jake Pfitzner with two minutes to go in the third.
"Credit to Mount Miguel for their performance on the offensive end," Totah said. "We were up nine with four minutes to go and got complacent. We have to learn and move on from this. 17 turnovers tonight for us was not a bright spot, as well."
Pfitzner led El Capitan with a game-high 30 points. He also had six rebounds and a pair of assists.
"During the fourth quarter our team looked really good," Pfitzner said. "But it just seemed that during the last three minutes, nerves got the best of our team.
Vaquero Harrison Morton added nine points on 4-of-5 from the field. His drive to the hoop at the third-quarter buzzer extended a short El Capitan lead.
"Harrison Morton was more of an aggressor tonight for us," Totah said. I was pleased with his efforts on the offensive end."
"The same goes for junior big man Jacob Howard, who gave us a spark in the third quarter to help extend the lead to a nine-point differential. He had a key 'and-1' and quality assists at the high post that gave us good production in his role tonight.
Granite Hills is next for El Capitan this Friday in a league matchup.
We have to turn the page," Totah said. "We can pinpoint a lot of different things that happened negatively tonight, but that's why we practice. We will address and get better."
Every game is now pivotal in the Wild Wild Valley League.
"The way we bounce back is to practice very hard these next two days and really try to correct some of the mistakes that we were making," Pfitzner said. "Also. during practice, we should hone on rebounding and also guarding ball screens."
CHRISTIAN 71, MISSION BAY 60 – No. 8-ranked Christian improves to 16-3 on the season and 1-1 in the Western League after going on the road and beating a scrappy Mission Bay team.
Mission Bay led 19-14 after one period. The game was tied 28-all at halftime.
Leading by one entering the fourth, Christian outscored the Buccaneers, 26-17, in the fourth.
Kobe Sanders led the Patriots, scoring 20 points with a +11 in +\- efficiency.
The Pats' Jake Tawhiao added 13 points and four steals while teammate Vinny Signorelli made four threes, finishing with 12 points.
Christian High's DaSean Lynch finished with 11 points and five rebounds.
Pat Roberts finished with four points and 9 rebounds for CHS.
The Patriots shot 39 percent beyond the arc (11-for-28) and an impressive 18-of-21 from the free-throw line.
Christian takes on third-ranked Cathedral Catholic (2-0 Western), which defeated top-ranked St. Augustine (1-1 Western) on Tuesday, this Friday at 7:30 p.m., as the Patriots will look to stay undefeated on the road.
MONTE VISTA 101, CASTLE PARK 25 – The Monarchs eclipsed the century mark against the helpless Trojans.
Monte Vista, which scored 40 points in the first quarter, had every player on its roster score in the game.
Ivan Maynard scored 24 points in three quarters.
Deron Whitley was next with 12 points.
Marco Bahline and Niamiah Alston both had 10 points for the Monarchs, while Isaiah Gardner had nine points. Jayvion Burke finished with eight points for Monte Vista
Monte Vista improved to 11-8 overall.
The Monarchs will host Santana on Friday at 7.
Castle Park is just 2-11.
LIBERTY CHARTER 55, PREUSS UCSD 51 – The Lions had four players in double figures and improved to 3-0 in the Summit League.
Juniors Jayden Swanson and Jonah Belprez had 15 points each, while junior Tyler Snell added 11 points, and senior James Zuniga finished with 10 points for LCHS.
Swanson had 16 rebounds, four blocked shots, and five assists, while Belprez had 10 boards.
The game was tied 39-all after three quarters.
The Lions face O'Farrell Charter on Thursday in a battle between league unbeaten teams.