Knights, Jaguars out front in PCAC race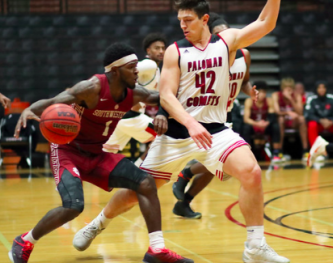 Southwestern's Marquavian Stephens against Palomar. / photo by Hugh Cox
2020 COMMUNITY COLLEGE MEN'S BASKETBALL
EastCountySports.com staff report
SAN DIEGO – The Southwestern Jaguars and San Diego City Knights figure to battle down to the wire in the race for the PCAC championship.
The Jaguars are 6-0, one game ahead of the Knights, who are 5-1.
The Knights defeated the Palomar Comets on Wednesday, 78-69, as the Comets fell to 4-2.
Twelfth-ranked City College defeated Miramar last Monday, as all five starters scored in double figures and the Knights used a 22-2 run in the second half in an 88-71. The No. 12 Knights improved to 13-4 overall and 4-1 in the PCAC.
San Diego City's Drew Cisse scored 20 points on 10-of-14 shooting, pulled down 13 rebounds and blocked two shots.
"We knew (Miramar) was a very talented team who had recently knocked off our rivals Southwestern so it was a big goal for us to key in on Michael Tate and Cameron Barry and try to limit their offensive output by making every bucket tough," Cisse said. "I think the key plays were the string of stops we had in our 22-2 run. We all collectively locked in and the results showed.
"We wanted to win this one for coach Mitch (Charlens) because we felt the ejection was pretty harsh and I think we were able to do that. The assistant coaches really stepped it up for us and it was an overall great night
Isaac Davis also scored 20 points while dishing out seven assists for the Knights.
Victor Irhirhi put in a career-high 15 points for the Knights, while also grabbing eight rebounds, and making five steals in the win, while teammate Dominic Hovasse added 12 points, five rebounds, and three assists.
"Our defense stepped up in the second half," Hovasse said. "We were rotating and contesting shots while securing rebounds. When our defense is firing then our offense flows from it."
Legend Stamps contributed 10 points and eight rebounds for SDCC.
The Knights held a slight 55-53 lead midway through the second half, but a dunk by Cisse off a lob from Davis at 10:28 started the big run, as the Knights turned a two-point lead into a 77-55 advantage with 4:31 remaining.
San Diego City held Miramar to 1-for-8 shooting during that stretch and forced the Jets into five turnovers. Overall, the Knights got Miramar to turn the ball over 19 times and outscored the Jets, 30-14, on points off turnovers.
The Knights won the rebound battle, 47-28, including a 15-5 advantage on offensive rebounds.
Miramar was led by Michael Tate's 20 points.
Former West Hills High great Cameron Barry had 15 points and six rebounds for the Jets, while teammate AJ Tolliver added 16 points off the bench.
San Diego City has now won two straight and nine of its last 10.
Southwestern defeated San Diego Mesa, 96-55, on Wednesday behind D.J. Jackson's 25 points.
Cuyamaca won its third game of the season and first in the PCAC by defeating Imperial Valley, 61-53, as Ray King had 25 points.
Meanwhile, the Jags downed the Coyotes on Monday, 83-63, while the Comets topped the Olympians, 63-60, also on Monday.
The Grossmont College Griffins, which lost on Monday to Mira Costa, 65-51, won their first game of the season last Friday, defeating Cuyamaca, 65-46.
Forward Keanu Briggs scored 14 points, going 7-for-11 from the field, for Grossmont
Griffin forward Jamal Johnson scored 13 points, as he went 6-for-9 from the field.
Guard Alex Torres also put up 11 points for the Griffins.
Grossmont forward Nicholas Mason had 15 rebounds.
The Griffins' next home game is Wednesday, Jan. 22, at 6 p.m. against the San Diego City College Knights.