BOYS: Eagles, Scotties win league tilts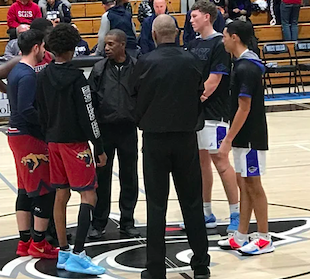 Steele Canyon and West Hills before the opening tip on Friday.
2020 EAST COUNTY PREP BOYS BASKETBALL
EastCountySports.com staff report
LAKESIDE – The Granite Hills Eagles staked their early claim for the Grossmont Valley League title chase by knocking off the El Capitan Vaqueros, 62-60, on Friday night.
McKay Roberts had seven three-pointers for the Eagles and finished with 29 points.
Granite Hills is tied with Santana at 2-0 in the league chase early.
In the second quarter, Roberts had 20 points, as Granite Hills outscored El Cap, 24-10, in the second quarter.
"There is the difference in the ball game," El Capitan head coach Elias Totah said.
John Yakou had 17 points, including a pair of three points for the Eagles.
Eagle Caleb Erickson had a three-pointer in the second-quarter outburst.
Deon Spear had all seven of his points in the third quarter for Granite.
"McKay had a great game tonight," Granite Hills head coach Dan Duffy said. "I'm proud of how hard we fought. El Cap is a well-coached and hardworking team.  We have a lot to work on, particularly at the free-throw line.
Jake Pfitzner had 23 points for El Capitan, including a pair of three-pointers in the second half. He also grabbed nine rebounds and made two steals.
R.J. Lugtu had three three-pointers for El Cap. He finished with 11 points.
Junior Kalen Lavallais had six points for El Cap in the first half. He finished with eight rebounds and five assists.
Daisean Desinor, a sophomore, scored eight points for El Capitan.
Blaize Saiz had eight rebounds for the Vaqueros.
"We outscored them three out of four quarters but we had a tough time guarding the perimeter once again," Totah said. "Pfitzner sparked our second-half run. It was too little, too late at that point. I'd like to have a few possession back in the last two minutes of the game.
El Capitan will face Monte Vista on Tuesday night.
"We can't dwell on this loss," Totah said. "We need to end the three-game losing drought."
HELIX 57, GROSSMONT 54 – Isaiah Robinson led Helix with 14 points, while teammates Sammy Stewart had 10 points for the Scotties, and Xavier Otis added 11 points.
Mykol Rodriguez paced Grossmont with 20 points, while teammate Noah Velasco had 12. Rodriguez fouled out of the game in the fourth quarter.
Helix recorded a pair of steals early and Isaiah Robinson scored the first five points of the game for Highlanders.
Robinson later added a three-pointer which gave the Highlanders a 51-44 lead. Robinson had four three-pointers in the contest.
Helix, which improved to 14-6 overall, led 55-52 with 35 seconds left.
Keishon Trice had nine points. Trice had an important free throw with nine seconds left.
Noah O'Clancy scored 11 points for Grossmont (10-7).
Noah Velasco tied the game at 38-all with a three-pointer for the Hillers.
WEST HILLS 57, STEELE CANYON 37 – The Wolf Pack took care of business at home on Friday night in the Grossmont Hills League tilt.
Led by Kyle Dobyns, who had 30 points and 16 rebounds, West Hills won handily.
Cash Creighton had eight points, including a pair of three-pointers.
"Cash had a stellar performance controlling the tempo and offense," West Hills head coach Tim Barry said. "It was a good win for us tonight on our home floor and that's the key to have a shot in league. We must hold serve at home and take our shots on the road."
Next up for West Hills is Helix in a Tuesday night Grossmont Hills League game in Santee.
West Hills led 15-9 after the first quarter and 30-17 at halftime.
Steele Canyon got 17 points from Simpson, including a pair of three-pointers.
Josh Tendvahl added eight points for the Cougars.
Ashton Avestro had seven points for West Hills, including a three-pointer in the third quarter.
"I just do my job to get the ball to players like Ashton, Kyle, and Jayden and then knock down shots when I'm open," Creighton said. "Our keys to winning the game were to keep the turnovers down and win the rebound game which we did."
SANTANA 57, MONTE VISTA 56 (OT) – The Sultans outlasted the Monarchs in an overtime thriller to improve to 2-0 in the Grossmont Valley League.
Brandon Tully had 23 points, including three three-pointers for Monte Vista. Niamiah Alston had 11 points and six rebounds for Monte Vista, while
Lavante Jenkins had 10 points, 10 rebounds,  and three steals for the Monarchs.
Tully had all five of Monte Vista's points in the overtime. He had four steals in the game and seven rebounds.
Monte Vista (11-9) was playing its league opener.
CATHEDRAL CATHOLIC 71, CHRISTIAN 56 – The third-ranked Dons won at home against the eighth-ranked Patriots in a Western League battle.
A wild start had the Dons up 22-20 after one period but Cathedral pulled away in the second to lead 38-28 at halftime. The Dons led 59-43 heading into the fourth.
Kobe Sanders had 16 points for Christian, including a pair of three-pointers in the second half.
Jake Tawhiao had 13 points for Christian.
Vinny Signorelli had a trio of three-pointers for the Patriots, including a pair in the second half.
Dasean Lynch had a pair of three points for Christian.
FOOTHILLS CHRISTIAN 72, LA JOLLA COUNTRY DAY 43 – The Knights, ranked second in the county, defeated the Torreys in La Jolla.
Jaden LeBel had 14 points for Foothills Christian.
Derrien Carter-Hollinger had 13 points for the Knights.
Foothills moves to 14-5 on the season and 5-0 in the Coastal League.
FCHS takes on St. Bernard on Martin Luther King Day at 5 p.m. at St. John Bosco.
VALHALLA 71, MOUNT MIGUEL 36 – Valhalla is 8-11 with the win, while Mount Miguel is now 2-12.