East vs. South: South sweeps three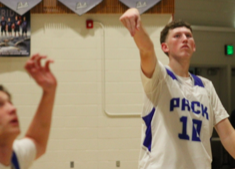 West Hills' Kyle Dobyns / photo by Dave Dickens
2020 EAST COUNTY PREP BOYS BASKETBALL
EastCountySports.com staff report
SPRING VALLEY – The West Hills Wolf Pack nearly made a 30-point turnaround against the Eastlake Titans on Saturday.
Back in December, the Pack dropped a game to Eastlake, 77-58, at the Grossmont Winter Tournament.
However, in the East vs. South Challenge at Mount Miguel High, the Wolf Pack nearly knocked off the Titans before falling, 54-51.
"I am so proud of my boys and the progress we have made in two-thirds of a season," West Hills head coach Tim Barry said. "We took one of the top teams in D3 who beat (sixth-ranked) Mater Dei Catholic Friday night to the wire."
After leading by one at halftime, the two teams went back and forth in runs.
Leading 51-49 with 1:15 left, West Hills worked for a great shot that just did not fall and Eastlake scored the next two baskets.
"With 11 seconds left we got a great look from three but the ball just did not fall," Barry said.
West Hills fouled and the TItans hit a free throw leaving a desperation three that hit the front of the rim to end it for the Wolf Pack.
"As I said the other night, we have a chance to make some noise in D3 and proved it tonight," Barry said. "My boys are starting to understand the concept of grit and truly played for each other tonight."
Kyle Dobyns scored 19 points for West Hills, including 12 points in the fourth quarter.
Ayden McClure scored 10 points for the Wolf Pack.
Eric Lozano scored eight points for West Hills, which led 20-19 at halftime.
MONTGOMERY 68, STEELE CANYON 44 – The Aztecs built a 14-9 lead after the first quarter of the game at the East vs. South Challenge.
Montgomery extended its lead to 30-18 by halftime.
Josh Tendvahl kept up his hot scoring pace for the Cougars, scoring 20 points.
Chris Carter was hot early with a pair of three-pointers as he tied to score at 9-all.
Antoine Walker added seven points for Steele Canyon, while teammate Fred Murry finished with six points.
The Cougars' Joey Cleaves and Andre Richardson both made a three-pointer in the contest.
SWEETWATER 81, MOUNT MIGUEL 68 – The Matadors made a good battle of the East vs. South Challenge contest against the Red Devils before fading late.
The Matadors trailed just 11-10 after the first quarter, then 33-27 at halftime.