Thomas drives in four in Cougar win
Updated: February 29, 2020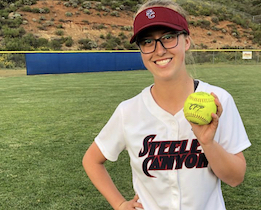 Steele Canyon junior Tayler Thomas.
2020 EAST COUNTY PREP SOFTBALL
EastCountySports.com staff report
STEELE CANYON 11, HIGH TECH SAN DIEGO 1 (5 inn.) – The Cougars scored five times in the first inning to rout the Storm in a Falcon Fiesta pool play contest on Friday.
Tayler Thomas had four RBI, driving in runs in the first and fifth innings. She had three hits overall, including a double in the Cougars' three-run fifth.
Senior Merrian Teague had two hits, scored a run, and drove in a run for the Cougars.
Junior Carlie Williams added two hits and scored two runs for SC.
Junior Marley Rimoldi had a hit, a run and an RBI for Steele.
On Saturday, the Cougars fell in nine innings to the Scripps Ranch Falcons, 4-3, in a non-league game.
The Falcons won it in the bottom of the inning on a solo home run.
The Cougs took a 3-2 lead in the top of the seventh on a home run by Breanna Perez with two out.
However, Scripps tied the game in the bottom of the seventh inning.
PATRICK HENRY 9, GROSSMONT 5 – The Patriots scored four runs in the bottom of the first to erase a 1-0 lead but Grossmont rallied to take a 5-4 lead in the top of the third inning.
The Patriots scored four times in the fifth inning to retake the lead.
Grossmont freshman Jade Daley had three hits, scored a run and drove in a run.
Hiller senior Halle Sweiss had a double, drove in a run, and scored a run.
Grossmont sophomore Caitlyn Potts had a sacrifice, walked twice, and drove in a run.
MAR VISTA 1, SANTANA 0 – The Mariners edged the Sultans in the Gold & Silver Classic contest on Friday in the South Bay.
Hailey Justice had a strong performance on the mound for Santana, allowing three hits and an earned run in six innings. She finished with seven strikeouts.
The Sultans managed just two hits against the Mariners.