Beggars have no protection from Hawks
Updated: February 1, 2021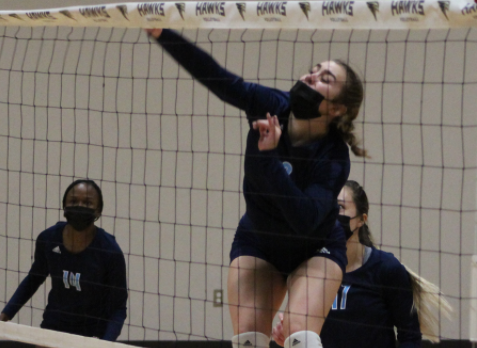 PHOTO SDCC HAWKS
2021 SAN DIEGO CHRISTIAN HAWKS WOMEN'S VOLLEYBALL
SAN DIEGO CHRISTIAN

def.

PROVIDENCE CHRISTIAN

, 25-22, 25-20, 25-9
ECS staff report
EL CAJON – Springing back from a difficult five-set loss which saw the final game decided in extended play (i.e., overtime), the San Diego Christian College women's volleyball team stormed back Friday (Jan. 29), destroying visiting Providence Christian in three sets. Game scores were 25-22, 25-20, 25-9, at the Salvation Army gymnasium.
Freshman middle Breanna Brooks fueled the Hawks with match-best 15 kills, including six in the first set to jump-start the hosts to an early 9-2 lead over the visitors from Ontario.
Kills by Isabella Marshall and Jessica Pinasco closed out the second set, then the Hawks mounted a 16-9 lead in the finale, capping the match with nine unanswered points.
The Hawks offense was operated by senior setter Ariana Velasquez who finished with 25 assists. She also shared backcourt laurels with teammate Kayli Barrera, each recording game-bests of 10 digs.
San Diego Christian (2-1) next travels to meet The Master's University in a non-conference match in Santa Clarita on Wednesday.
Providence Christian is winless in three starts.
NOTES: Providence Christian is known as the Sea Beggars, which is a term for a powerful military unit that made capturing coastal cities easy.
According to Bing.com, these fierce privateers under the command of a succession of daring and reckless leaders, the best-known of whom is William de la Marck, Lord of Lumey.