Surprise, Hawks in first after sweep
Updated: February 8, 2021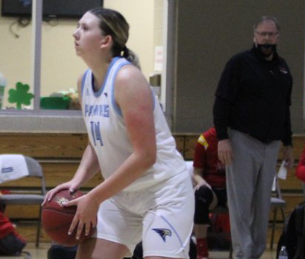 Hawks freshman Maddison Zugna, from Melbourne, Australia/ / SDCC Hawks
2021 SAN DIEGO CHRISTIAN WOMEN'S BASKETBALL
ECS staff report
SURPRISE, Ariz. – Owning a ledger with just one above-.500 finish in Golden State Athletic Conference play this century — just an 8-6 mark in the 2012-13 season — a location of this weekend's San Diego Christian College women's basketball games was more like a bombshell.
Still, the revelation is true. The Hawks moved into first place in the GSAC East Division following a pair of victories over host Ottawa University of Arizona. By near-identical scores, SDCC took down the Spirit, 57-49, in Friday's (Feb. 6) opener. Less than 24 hours later, SDCC again nipped OUAZ, 59-49, in a Saturday (Feb.7) matinee.
The triumphs give San Diego Christian (6-3 overall, 3-1 GSAC East) a percentage points lead in the standings, just ahead of William Jessup and The Master's (both 4-2).
Although both opponents are next on the schedule in the first real test for the Hawks this conference season, just the idea of being on top of the standings for the first time since – well, school records are not clear on whether the program has ever been in first place since joining the circuit – no one is complaining.
Game 1:
Following a near 2-week layoff, the Hawks were understandably sluggish to start and close the series opener. It took more than four minutes tog get on the scoreboard, then a late OUAZ rally in the fourth quarter was finally quelled before the Hawks going an 8-point triumph. BOXSCORE
After a double-digit lead dwindled away as Ottawa took a 39-38 lead moments into the fourth period, SDCC freshman forward Maddison Zugna tallied eight points down the stretch, while sophomore guard, Cynnadie Whatley added six more in the closing minutes to clinch the decision.
"It wasn't the prettiest game, but I am so proud of this group rallying together to get this road win shorthanded on the road against a very competitive Ottawa squad," said Hawks head coach Shawn Chaffin. "Maddie really took over down the stretch and our guards controlled the tempo better."
Tied at 44-all midway through the fourth, a layin by Zugna with 3:26 remaining moved the Hawks back on top. She scoed six straight points to expand the lead.  When the Spirit defense tried to shutdown Zugna, three other Hawks — Keren Hogue (2-2 FTs), Cynnadie WhatleY (short jumper; 2-2 FTs), and Jamee Joseph (1-2 FTs)  — scored  in the final two minutes.
Hogue led the Hawks with 12 points, while Zugna contributed 11 points and 6 rebounds.
Game 2:
San Diego Christian secured a wire-to-wire triumph behind 16 points by Zunga. Seven of her points came inthe opening period,while LeMay-Zambrano,Sammi drained a pair of 3-points shots, staking the  Hawks to a 17-10 advantage. BOXSCORE
Hogue followed with 8 f her 12 points in the second quarter to expand the lead to 33-21 by the intermission.
Joseph, who led the team with 8 rebounds in the first game, this time paced the Hawks with 6 assists.
Another gritty effort short-handed to win on the road at Ottawa 59-49! Defense stepped up big holding our opponent in the 40s again. Freshman post Maddy Zugna 🇦🇺 led us w 16 pts on an efficient 7-10 from field and 2-2 from 3. Back to back road wins w/o our top scorer #TalonsUp

— Shawn Chaffin (@GoHawksCoachSC) February 6, 2021
San Diego Christian will face its first showdown for first place next week, traveling to Northern California next week for a 2-game series with William Jessup.