Hawks flush host Royals in five-setter
Updated: February 19, 2021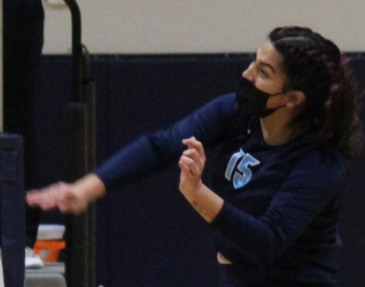 Aixa Crespo of the Hawks. / SDCC Hawks
2021 SAN DIEGO CHRISTIAN HAWKS WOMEN'S VOLLEYBALL
Hope International University vs. San Diego Christian College – Feb. 18
By Nick Pellegrino
ECS staff writer
FULLERTON – In a wild overtime thriller, the San Diego Christian College women's volleyball team endured a pair of "extended play" (i.e., overtime) to steal the match, rallying from 1-0 and 3-2 deficits to shock host Hope International in Thursday (Feb.18) in Golden State Athletic Conference action.
Game scores were 18-25, 25-11, 24-25, 26-24, 16-14, at Darling Pavilion.
The triumph set the stage for the biggest set of matches in program history when they meet 4th-ranked Westmont next week. The teams are tied at the top of the GSAC East Division standings following 2-0 starts.
"Westmont finished as national runners-up last season and they're No. 4 nationally this season," said SDCC head coach Gene Krieger. "We 'll try to do our best and see what the gap is between them and our young team."
The Hawks earned their opportunity with a match-long, come-from-behind effort to throttle Hope International. Down 1-0, the Hawks dominated the second set, but when the Royals narrowly took the third set, SDCC stayed in contention.
"We stuck with our game plan and worked hard on our challenge to stay focused," he added. "Young teams make physical errors, but f you can keep your mental errors to a minimum, you can still make clutch plays at the end"
Plus, the Hawks own proven success in close games all season long. However, in defeating Hope, the coach is hopeful they gained enough experience to gave Westmont a decent match.
"That was a big win for our program," Krieger noted. "To beat one of the stronger programs in the conference is very encouraging for us."
The defense was again a key factor to rattle the Royals. In fact, you may call it a record-breaking performance.
"Never in my 20 years of coaching have I seen a team register 125 figs," he added. It's the third time this season we reached triple-figures. Our staple is our defense."
Leading the way in the backcourt was Kayli Barrera with a personal-best 33 digs. Ayanna Nunuha finished with 22 dogs, as five Hawks reached double-figures.
Three other Hawks also established career highs. Bre Brooks recorded a kill percentage of .517 for a PR, while Jessica Pinasco spiked at a 40 percent rate.
"And both only had one hitting error each," the coach noted. "They were both extremely consistent."
In the third set, San Diego Christian was the first to reach 20 points, holding a 21-18 lead. HIU answered by scoring seven of the final nine points to steal the set. However, the next two sets leaned towards the Hawks.
Set No. 4 saw it was Hope which held the 21-20 advantage, but this time the Hawks stormed back thanks to a series of attack errors by the Royals.
In Set 5, the Hawks earned their points to win.
Trailing 10-8, kills by Isabella Marshall and Alexis DeBina-Bautista tied the score. Hope got the next point, but SDCC took the lead on a setting error and a service ace by Brooks.
At 14-all, a composite (block by Aixa Crespo and Bina-Bautista forced a spiking error, then Crespo capped the triumph with a cross-court winner.
The Westmont matches will be here in East County on Fri.-Sat., Feb. 23-24, at Salvation Army Gymnasium