Legend Madden winning like fine wine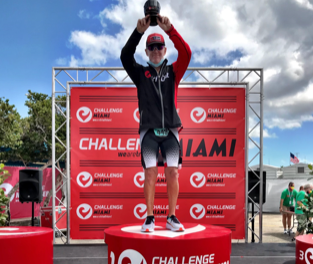 2021 LOCAL COVERAGE
ECS staff report
HOMESTEAD, Fla. — Participation may be down at many high schools throughout California, but there is one competitor who is still given his all — call him a case of an old face at a new race.
Hall of Fame Ultraman competitor Kurt Madden, who traces his professional running and coaching career to the East County, made the best of the year-long delayed Challenge: North America triathlon series, capturing Sunday's (Mar. 14) 2021 season opener at Challenge Miami.
Madden, 65, took his age-group division title in a time of 5:03:00 in a spectator-friendly, family event conducted inside Homestead-Miami Speedway.
"Five hours? That's my best time since I returned to the sport back in 2015," said Madden, who took a few years off from the pro circuit before returning with even more spectacular results.  "I am simply shocked; stunned."
Despite the Covid-19 imposed hiatus for all athletes, Madden was pleased with the mental challenges he overcame to remain in top shape.
"This is another great example of how we must embrace the importance of integrity — and I emphasis 'grit' — persistence and a 'can-do' mindset which will create exceptional results."
Along with being a competitor, Madden also fields a corral of athletes at all levels while coaching here in San Diego County. His message to his protégées — and to those high school and college student-athletes who gave up on participating this season despite the remnants of the pandemic — is simple.
"With a scaled-down season, the best thing is for children and teens to keep engaged, which provides them with an identity. This will make them successful."
Madden remains engaged in his 40-year career in ultra-distance running. He started with successes in Ironman competitions in Hawai'i, moved on to Ultraman, and even won several well-known 100-mile races and the USA 24-hour marathon in just under 140 miles.
But Madden's showing in the inaugural Challenge: Miami proved to also be special. The triumph also qualifies Madden for a spot in the Challenge: Wold Championship triathlon, to be held at the X-Bionic Sphere in Samorin, Slovakia.
The Miami course consisted of swimming two half-mile laps in the infield lake, cycling 17 laps covering 37.5 total miles, then a run of 7 laps or 10.5 miles on the racetrack. This is considered a "middle distance" pro event — yes, they often race greater distances!
Challenge: Miami is a three-day festival of triathlon events, held Mar. 12-14.
Next up for Madden may be the Ironman North American Championships, slated for Tulsa, Okla., on May 23.