Eagles, Cougars on a Thursday in April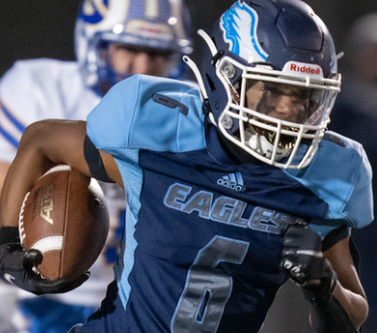 Granite Hills sophomore RB Joaquin Thomas. / CSProPhoto
2021 EAST COUNTY FEARLESS FORECASTER
EastCountySports.com staff report
EL CAJON – The fourth week of the 2021 Spring football season begins on Thursday night with a pair of Grossmont Conference matchups.
A semi-blockbuster has the Steele Canyon Cougars hosting the seventh-ranked Granite Hills Eagles tonight at 7.
The Eagles (3-0) are currently the highest-ranked team in the latest county media poll following their shutdown of Grossmont last Friday night, 20-7, at Valley Stadium.
The Cougars (1-2), meanwhile, are stewing after committing seven turnovers in a 14-0 loss to Helix last week.
If the balance of powers has shifted for this season, then maybe Granite Hills needs to be still on its best game when visiting Steele Canyon tonight.
The way the teams have knocked each other around over the last few years might suggest that Steele Canyon could do the same thing as it did last year, undermining the Eagles' undefeated start when Granite fell 28-13 at home.
But the Cougars were on a roll of their own at the time, and the turnover, so to speak, has been more at the Steele Canyon campus.
The Eagles' Zach Burton did score an early touchdown in last season's tilt, while senior quarterback McComb had a critical touchdown pass in the fourth quarter to make it a one-score game.
Granite then recovered an untimely fumble only to give it right back to the Cougars on a fumble of its own.
This game features top sophomore running backs Joaquin Thomas, of the Eagles, and Major Givens, of the Cougars.
But the Eagles' weapons seem more prevalent and abundant at this time.
The Cougars did limit Helix to just 14 points despite all the giveaways, but the Highlanders have been pretty one-dimensional this year to date.
The Cougars' program remains strong but they are more in their rebuild, while the wary Eagles are currently in the moment… GRANITE HILLS, 19-17.
EL CAJON VALLEY (0-2) at MONTE VISTA (2-0) – The Monarchs have ramped up their running game once more and its just a matter of bad timing for the Braves.
El Cajon Valley is a fun club to watch when matched up appropriately but this one is lopsided on paper.
Still, the Monarchs' sure game plan will allow for a swift, and respecful defeat of the visitors.
Last week, Deron Whitley rushed for three touchdowns, giving the Monarchs a double-threat of potent breakaway backs moving forward.
Both Whitley and Lamonta Jenkins, the bigger of the two backs for sure, are an imposing site for Valley League defenses, along with the Monarchs' two-way line, led by Jesse Schroeder, Adrian Ortiz, and Aaron Bustos.
The Braves' Joe Malone is a witty quarterback and hard-nosed linebacker, as well. Clarence Johnson is a big-play threat that the Monarchs know to focus on.
The Monarchs shut out the Braves last season on the way to the GVL title… MONTE VISTA, 35-7.
Friday… developing…
588 total views, 1 views today