VIkes beat RedHawks, finish best in desert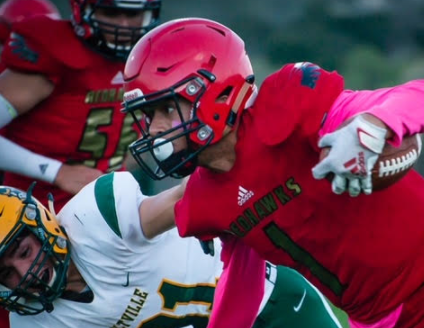 Mountain Empire's Marcus Smith carries on Friday. / photo by Heather Cunnington
EAST COUNTY PREP FOOTBALL
By Heather Cunnington
Special to East County Sports
CAMPO – The Mountain Empire RedHawks took on the top-rated team in D5 – the rival Holtville Vikings – and it was obvious they were outmanned from the outset.
The Vikings took a 22-0 lead in the first quarter and never looked back. The 50-6 win is just the Vikes' second in the last six trips to see the RedHawks.
The RedHawks' bright spot was the last play of the game when freshman Corey Vann connected with senior Marcus Smith on a 56-yard touchdown reception to close out the contest.
Smith also had 10 tackles and an interception.
Junior Pedro Castenada had a sack for Mountain Empire.
Mountain Empire junior Larry Clark made seven tackles, while sophomore teammate  Hunter Morgan  finished with four tackles.
Vann had four completions for 85 yards.
Holtville's Payton Iten rushed for 106 yards and two touchdowns, while teammate Jose Devoux had 52 yards on the ground and two touchdowns.
Jeramiah Higgins, the Holtville fullback, had two touchdown runs in the second half.
Abraham Ramos rushed for 87 yards a score, as well, for Holtville.
Holtville led 30-0 at the half.
Mountain Empire will travel to take on Palo Verde Valley 7 next Friday at Imperial High School.
463 total views, 1 views today