Hurting Sultans defeat Norsemen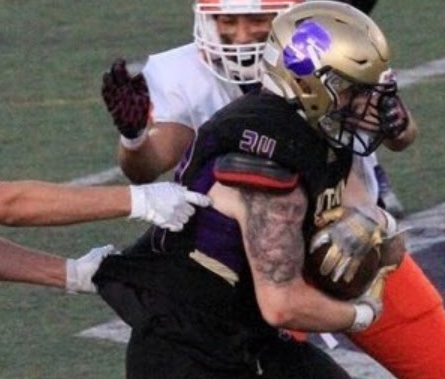 Nick Brase carries for Santana on Friday night against Valhalla. / santana_football
EAST COUNTY PREP FOOTBALL
SANTANA 21, VALHALLA 13
By Jim Lindgren 
SANTANA – What a difference a spring makes.
A week ago, senior captain Michael Richter played running back for Santana for only the second time and gained 71 yards with three touchdowns and caught his first two passes for 85 yards, including a 49-yard score. He also posted 16 tackles and a sack in a spirited win over Mt. Miguel.
In his first game, four weeks ago, Richter rushed seven times for 110 yards and two TDs to lead the Sultans in a romp over Kearny.
On Thursday, in track and field, tossing the shot for the first time, Richter put the metal sphere out there 45-plus feet three times to win the event.
One day later, on the third play of the Sultans' football game against Valhalla, Richter caught a short screen and raced 40 yards before being down from behind by a Valhalla defender.
And he stayed down. For several minutes.
Early prognosis points to a torn ACL in his knee. He'll find out Monday or Tuesday or later, but his high school career is probably over.
"Michael Richter is the emotional inspiration for our whole team," Santana coach Tim Estes said. "When he went down, the other guys were all shaken up."
Visiting Valhalla promptly scored against the stunned Sultans to take an early lead, but Santana tallied touchdowns in each of the final three quarters to rally for a 21-13 win to remain undefeated at 4-0.
A three-year starter at linebacker, Richter led the Sultans with 95 tackles and a school-record 19½ sacks in 2019 as Santana advanced to the San Diego Section Division IV championship game against winner Serra.
"He does everything for us, and his effort is 110 percent on every play," Estes said. "That was tough. He means so much to us, not just on the field but the way he leads and conducts himself. But the defense responded well after that initial shock."
Santana took a 7-6 into halftime, thanks to a decent drive and a 1-yard TD dive by senior quarterback Drew Temple.
Valhalla retook the lead, 14-13, early in the third quarter, but Temple then found Jared Forster for a 40-yard score to make it 14-13. Early in the fourth quarter, Shaun Martin hauled in a 14-yard touchdown toss from Temple to make it, 21-13.
Temple finished with 154 yards on 14-of-26 passing with the two TDs and one interception.
"It wasn't (Drew's) best game, but he came through when we needed him the most," Estes said. "He stepped up in key situations."
Forster caught four passes for 74 yards and the TD to lead seven targets for Temple.
"We try to spread the wealth around as best we can," Estes said.
Santana also lost two other two-way starters in the second half – Andrew Petersen, a WR/DB who injured his knee, and James Beeson, who may have a broken tibia. Junior running back Kayvion Jones was already out with an ankle sprain.
Without Richter and Jones, Nick Brase rushed 10 times for 48 yards, caught two passes for 21 yards (both first downs), and added nine tackles to lead the defense. Jorden Logan added seven tackles and Anthony Santiago recorded an interception.
"(Nick) really came through for us," Estes said. "Both on offense and defense. He ran the ball well and picked up some big screens and got us some first downs."
Likely without several starters, Santana (4-0) plays out the final game of the shortened spring season against Mast Boulevard-rival West Hills (1-3) next Friday.
Valhalla (0-5) finishes at El Capitan (2-3).