Hawks end 15-game streak in due time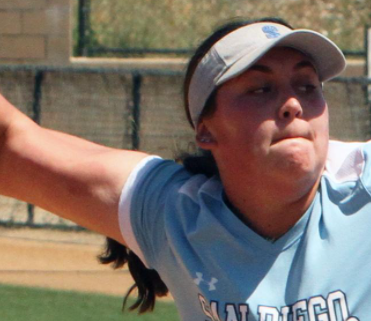 2021 SAN DIEGO CHRISTIAN HAWKS SOFTBALL
ECS staff report
SANTEE – No one ever said that snapping a lengthy losing streak would be easy. So when San Diego Christian College needed to head into extra innings, the Hawks were more than glad to — if they achieved the desired result.
Finally, following a month of futility, success came to the Hawks softball team.
On Saturday (Apr. 10), freshman Kayla Dominguez registered a bases-loaded, walk-off single in the bottom of the eighth inning, lifting San Diego Christian to a 4-3 triumph over Hope International University in the first game of a Golden State Athletic Conference doubleheader.
The win snapped a 15-game losing streak during what could be considered the most difficult scheduling stretch in program history,
The comeback saw the Hawks move even in the bottom of the seventh. But when the Royals answered in the eight, the locals answered twice to win it, capped on the hard grounder by Dominguez.
Trailing 2-0, the Hawks caught up with single runs in the sixth and seventh.
First, Lisette Mejias, another freshman, started a two-out rally with a double down the right-field line  Mejias advanced to third on an error, then ended HIU's shutout bid on an RBI base hit by Alicia Corona.
An inning later, Ashley Rivera would tally the game-tying run. She led off with a walk, advancing on a ground out to the right side by  Dominguez, Hannah Springs singled her to third, then Erika Silva laid down a squeeze bunt for the run.
With runners on the corners, the Hawks had a chance to win, but it wouldn't be that easy as the Royals turned an inning-ended double play to send the contest into extras.
Hope International re-gained the lead on a sacrifice fly by catcher Skyler Mao, but the Hawks again fought back.
With Mejias placed at second base, Corona doubled to left field, then Keelee Davis walked to load the bases.
Pinch-hitter Katherine Martinez followed with an RBI on a bunt single. When Dominguez came up, the Royals brought in their third baseman expecting a similar strategy.
Instead, "K-Dom" slapped the ball around the defender for the win
For Hope International, junior center fielder Karen Creech, a product of Granite Hills HS, began a two-out rally in the third with a single through the left side.
In Game 2, Royals pitcher Olivia Candelas fired a 5-hitter in a 7-0 shutout victory. She struck out three.
Creech, who hails from Alpine, batted 2-for-5 and scored twice, finishing her homecoming by going 3-for-9 at the plate. As a freshman in 2018, she batted a stellar .409 in 31 games.