Ringer authors foreward on win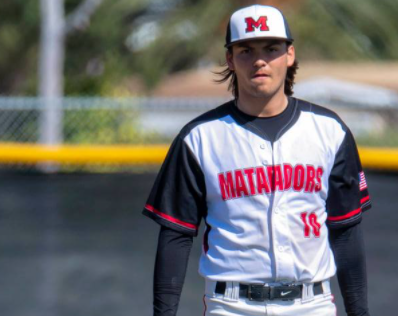 Mount Miguel senior Thomas Ringer.
2021 EAST COUNTY PREP BASEBALL
MOUNT MIGUEL 9, SERRA 3
By Nick Pellegrino
ECS staff writer
TIERRASANTA —- It's not only frustrated jocks that become sportswriters. Some pretty good athletes spend their post-athletics careers as members of the media.
However, many of the well-known names land on television or radio because they can talk. Few possess the education or ability to write a game story for newspapers or reputable websites and blogs.
One such exception locally is Don Norcross, the former CIF-San Diego Section passing champion when he quarterbacked at Kearny High in 1974. Norcross, who threw for more than 1,200 yards (a big number back then) currently holds a writing residence with the San Diego Union-Tribune.
Could the next newspaper journalist from the local prep ranks be far away?
Already writing for East County Sports is affable Mount Miguel High senior Thomas Ringer, mostly covering football, but has done other sports, too.
On Saturday (Apr. 17), Ringer posted a bell-ringing effort — pun intended — in a makeup game to the Bill Dickens-GMC baseball tournament. The event is named after the late sports editor of the defunct Daily Californian newspaper and managing editor of this website; yes, Dickens was once a catcher for Grossmont High.
Ringer, a four-year varsity performer for the Matadors, easily posted his best effort of the season. He fired four no-hit innings at Serra, leading the Matadors to a comfortable 9-3 triumph over the Conquistadors.
"Because of the pitch count we had to throw in a new pitcher," Mount Miguel head coach Frank Coit said. "Ringer had been throwing a nice slider and, of course, the fastball, but even the umpire said that his changeup was 'absolutely filthy' following the game."
Via a scheduling oversight, the Matadors were slated to host the Qs on Friday. but their home ballpark is shared with Foothills Christian. Mount Miguel management were gentlemen in allowing the Knights use of the field Friday, they switched to Saturday.
Ringer, no Plain Dealer, knew the storyline and dominated Serra.
With his fastball, half of Ringer's dozen outs were registered on strikes (1.5 per inning), against just a single walk — he faced just one over the minimum.
When it came time for Ringer to qualify for the pitching win, his Matadors teammates responded with four runs in the fifth inning for a 6-0 cushion to reward the right-hander.
Eddie Delgado, a transfer from Monte Vista, pitched two innings for his first game action in a year, throwing 40 pitches. He started the game at second base.
"Thanks to my teammates for having my back in the infield," Delgado said. "To be honest, I was proud of myself today. I felt pretty good. I always try to feel confident and just do my work. I felt comfortable at both positions."
More breaking news: Trader is an auto-steal
The entire batting order contributed, but the main highlight could go to Johnathan Trader with a record performance.
Not known for his power, Trader does get on base then utilized his speed on the base-paths.
How much so? Trader stole six bases, according to the game account, including a theft of home when the Serra pitcher fired to first base to hold another Matador runner at bay.
The six thefts equal the school record, the Grossmont Conference record, and is the second-most by any large enrollment school in CIFSDS history.
"Trader has really been an asset," Coit said.
The official section record is eight, held Mike Dently of Borrego Springs against Lutheran in 1985. Among larger schools, the mark is seven by players from Oceanside in 1970 and Lincoln in 1993 plus Ryan Sawyer of small-school Mountain Empire vs. Vincent Memorrial of Calexico in 2018.
The East County record of six is shared among: Frank Carey (Granite Hills, 1983), Larry Simms (Helix, 1984), Robert Cannon (Mount Miguel, 1985) and current Mountain Empire senior Jacobe Noland (as a freshman in 2018).
Trader stole at least one base against all four of Serra's pitchers. His most important bag was swiping third base in the third. Following his lead walk, he would eventually take two bases, yet was still standing 90 feet away until Ruben Gomez delivered a two-out single over the first baseman for a 2-0 lead.
In the seventh, Trader and Ringer lead off with consecutive singles to place them on the corners. Anticipating a double-steal or some sort of play, the Serra pitcher fired the ball to first base four straight times.
When the fourth offering to first started, Trader turned on the jet-pack and headed home to make it 7-2.
A few batters later, freshman Steve Gulley drilled a two-run double for a 9-2 advantage, bringing home Ringer and Gomez.
"That Gulley family can hit," Coit added.
For Mount Miguel (3-8), Daniel Landry, Joseph Ortega and Gulley finished with two RBI each.
Ortega also helped close out the game on the hill for the Matadors, going one inning.
"(Ortega) did his job well to close it out," Coit said. "He had a good outing considering he is coming off many injuries so I was very proud of him."
For Serra (2-8), which will be known as the Rattlesnakes ("Rattlers" for short starting in August '21), Zack Neville ruined the shutout bid on a 2-run single in the fifth; both runs were unearned as both runners reached on errors.
"We only made one real error (although charged with three) and we made many changes to the defense prior to this game," Coit said.
1,090 total views, 1 views today