Hofmeisters enjoy visit to Ryan Center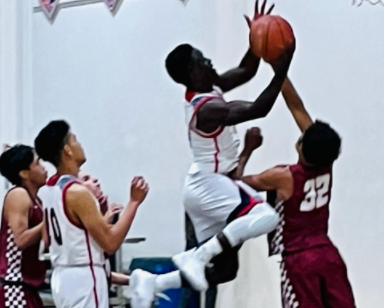 Christian High drives to the basket on Thursday. / photo by Dave Dickens
2021 EAST COUNTY PREP BOYS BASKETBALL
EastCountySports.com staff report
EL CAJON – The Christian High Patriots figured to be looking forward to their home test against the ninth-ranked Mission Hills Grizzlies on Thursday evening.
After all, the Patriots seemed to be drumming up momentum with a new, exciting lineup this season that had led to three straight wins to start their late campaign.
Meanwhile, Mission Hills head coach Curtis Hofmeister got a chance to return to the school where he started his head coaching career over 20 years ago.
But the Grizzlies were more in tune, drumming up a 60-37 win over the Pats at Ryan Center.
Caleb Hofmeister, the coach's son, drained a three-pointer in each period to lead a balanced scoring attack for the Griz.
The Grizzlies did a number on the Patriots in the second quarter of this one, however. Or, maybe not a number is a more correct way to put it.
Mission Hills held Christian scoreless over the final eight minutes-plus of the first half, to lead 34-12 at halftime.
"I have to give (Mission Hills) credit," Christian High head coach Tim Brown said. "They did a great job on defense and are very well-coached. Our young guys went out and competed and played hard. When you have a game like this, you have to have a very short memory.
Junior Nelson scored 13 points for Christian High (3-1), including a trio of three-pointers.
Three Patriots were next in the team scoring with just six points – Patrick Perez, Shawn Jackson-Ascura, and Isaiah Givens.
"We were going to have to play physical because that's how the Grizzlies play," Jackson-Ascura said. "I'm happy that my team got an eye-opener of what it's like to play D1 teams, playing physical against high-end players, which is what the rest of our season is going to consist of."
Givens had a team-high eight rebounds.
The Patriots turned the ball over 26 times.
Jared Hansen was next for MHHS with 10 points, as the Grizzlies had 10 players score points.
So dismayed was Jackson-Ascura, a senior transfer from Serra, he remained at his locker after the gym lights were turned down and the rest of the team and staff had filed out.
"I really want this team to win as much as I do," Jackson-Ascura said. "I was the last one out of the gym. I stayed late and worked on getting to the rim. I want my teammates to agree that we are going to battle together because I know I have their back."
The Grizzlies were coming in with a 5-3 mark, but their losses were to No. 1 Torrey Pines, No. 7 El Camino, and No. 2 Cathedral Catholic.
As for coach Hofmeister, the trusted assistant for more than a decade of long-time successful Patriot head coach Randy Wright, he left for Mission Hills in 2004 and has amassed 278 career victories at the two coaching stops.
Hofmeister was the East County Coach of the Year in 2001 as Christian went 22-6 but was stunned by Lincoln's 12-point CIF Division IV semifinal comeback in the final four minutes at Cuyamaca College. The Hornets were the Pats' playoff nemesis in consecutive seasons.
When he took over the coaching reins from Wright, his top assistant was Brad Leaf, who is currently retired from coaching after a career in which he had 395 combined victories at Steele Canyon and Foothills Christian.
Christian High has upcoming dates with No. 5 St. Augustine on the road and then the Dons, at Ryan Center.