Saints edge Patriots in top matchup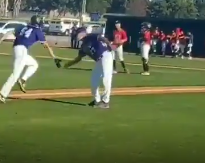 Trevor Fox rounds third after his home run on Wednesday.
2021 EAST COUNTY PREP BASEBALL
By Nick Pellegrino
ECS staff writer
KEARNY MESA — The computer power index utilized by the CIF San Diego Section went by the wayside when Christian, recognized as the second-best ballclub in Division III by the media poll, took on 5th-ranked St. Augustine, the top club in Division II.
The pair of "second division" clubs ended up playing one of the top contests of the season, as the host Saints held on to a 3-2 verdict at Hickman Field on Wednesday
The two teams would be considered Open Division playoff contenders if they weren't currently "relegated" to their non-Division I statuses.
St. Augustine reliever Manny Butler survived a seventh-inning error to retire eight of the final nine batters he faced, saving the game for Jacob Odle, who came out after the Saints regained the lead in the decisive fourth inning.
Down 1-0, Christian tallied single runs in the third and fourth by remaining close to the basics in a ballgame where runs would come at a premium.
Shane Bailey tied the game with a bases-loaded ground out, hitting the ball up the middle so leave the shortstop with no play except to go to first base.
An inning later, Nathan Cena stroked a lead double, coming around with the go-ahead run on a grounder hit behind the runner by sophomore Hunter Kaul, then an RBI single by Eric Markowicz.
However, Odle got bailed out when Saints slugger Trevor Fox, the cleanup hitter, sent a line drive with the wind out to right field for a game-tying homer. Two batters later, Xavier Franco singled, moved to second base on a ground ball, then gave the Saints the lead on a two-out base hit by Domenic Carini.
Carini was later charged with an error to open the seventh, but Butler calmly coaxed three shallow fly balls to close it.
"Feels great to be back," Markowicz said. "I felt really good at the plate considering I hadn't seen live pitching in two weeks. We have played some really good baseball over these last couple of days. It was a tough loss today but we'll come back stronger."
Early on, the defense shined, including a Patriots double play in the first on a pickup by shortstop Vaughn Major to the pivot by second baseman Ashton McCurty.
Braeden Ross went the six complete innings for Christian, striking out five and walking four while allowing six hits.
"Nothing to hang our heads about," Ross said. "This was just a loss against a good team. We went toe-to-toe with one of the best teams in the county. We didn't generate as much offense as we are accustomed to. We are starting to realize the potential of our team. We have a solid group of guys that can do some special things this season."
Christian (10-3) broke its deadlock with the 2015 Patriots (11-2) for the best start in school.
The Patriots next host Santana on Friday at 3:30 p.m. before entering City League action next week.
"We have to come out with the same intensity against Santana," Ross said. "I think we are more than capable of coming out with a win. Coach (Mike) Mitchell's line has been, 'win the week,' and I think we have a great chance of doing it on Friday against a good team."
For St. Augustine (15-2-1 overall, 2-0 Western League), Carini was the only player with multiple hits and RBI (two each).  The club is off to its best start since the Saints went 10-1 in the '15 campaign.
Monte Vista 21, ECVHS 0 (4 inn.)
EL CAJON — In his first career appearance at the varsity level, Bonita Vista transfer Isaiah Hilke faced the minimum number of batters through three innings, finishing with a 1-hit shutout to lead Monte Vista past home-standing El Cajon Valley, 21-0 in four innings, in Wednesday's (Apr. 28) Grossmont Valley League contest. The game was originally slated for Thursday but was moved ahead by 24 hours.
Hilke allowed just one walk through three frames, but that player was caught in an attempt to steal second base on a strong throw by catcher Jacob Savoy to end the first inning.
By the time Hilke took the mound, Monte Vista held a 10-0 cushion.
A tip of the cap goes to sportsmanship. Once Hilke's bid for a no-hitter ended on a leadoff, ground single through the left side by Rikki Ortiz in the fourth, the game was called when the inning was completed. Hilke struck out eight Braves batters.
For Monte Vista (7-6 overall, 2-0 GVL for a half-game lead over El Capitan), Ernie Arambula, the league's leading batter, went 2-for-2 with a pair of doubles, two runs scored, and three RBI. See the BOXSCORE for further details.
ECVHS fell to 1-10 (0-2 for 59 straight in GVL play since May 6, 2015).
Liberty Charter 11, Bayfront Charter 2
LEMON GROVE —- While a majority of Frontier Conference schools in the CIF-San Diego Section are skipping baseball and softball for a variety of pandemic reasons, Liberty Charter has been conducting due diligence to return the Lions to the diamond.
In baseball, Liberty Charter finally returned to action with only its second ballgame of the season — and with victorious results.
On Wednesday (Apr. 28), junior Tommy Scanlon registered a perfect 4-for-4 outing at the plate, with a double, two runs, and three RBI, powering the Lions past the visiting Bayfront Charter Sharks in a non-league affair.
The Lions (1-1) mounted a 7-0 cushion before gliding to the victory, making a winner of starting pitcher Jaxon  Adrain, who one batter short of a complete game due to the pitch-count limitations. Adrain registered strikeouts on a dozen Sharks batters.
Three runs in both the third and fourth innings were enough to put the triumph away early.
After an RBI double by sophomore Josh Hyler in the first, two wild pitches, and an error made in 4-0 in the third,
An inning later, Keawe Pelekai-Librea rode the pitching fins of the Sharks for a triple, to start a one-out rally. Later, Scanlon and Adrain posted consecutive RBI singles.
For Bayfront Charter of Chula Vista (2-3), Daniel Lim posted two of the ballclub's six hits.