Alto, Sultans stop another opponent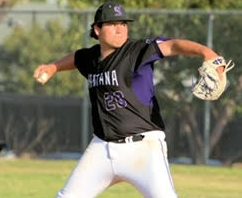 Santana High's Koda Alto. / Ken Todd
2021 EAST COUNTY PREP BASEBALL
ECS staff report
LAKESIDE —-The Santana Sultans continue to win, yet receive no love until this past week from the panel of media members who produce the CIF-San Diego Section baseball rankings.
Finally gaining a top ten berth at No. 9 overall, Santana extended its winning streak to seven after Koda Alto fired six shutout innings in a shutout of host El Capitan, 8-0, at Hostetler Field. The triumph allowed the Sultans to grab a share of the GVL lead with idle Monte Vista.
Santana (12-4 overall, 2-0 GVL) has only lost to some of the powers in the CIFSDS like La Costa Canyon, Poway, and Eastlake.
Alto ran his East County-leading record to 6-0 after plowing down the Vaqueros on just two hits. He struck out four, registering the majority of his outs on grounders.
"Koda absolutely shoved today," said Santana shortstop Davin Burroughs, who made seven assists and three putouts. "Our team played great defense behind him like we always do. I've never had so many balls hit to me in a game because of how good our pitching was. Koda puts trust in his team and doesn't try to do too much which is why I believe he is the great pitcher that he is."
Bradley Larsen kept El Vspitan close for five innings, but when the sophomore tired in the sixth, Santana posted five runs to break open a 3-0 contest.
The big inning featured a solo home run from Dean Landers, who lined a drive to the deepest portion of the field in ultra-deep center field.
Two singles and a walk loaded the bases, then Tyler Glowacki was hit by a pitch for an RBI. And when Cole Contreras lined a 2-run double to left to cap his three-RBI performance, the margin increased to 7-0.
Glowacki would score three times, while catcher Ethan Wright went 2-for-3, featuring a two-run double to jump-start the offense in the first Santana (14-4 overall,2-0 GVL).
El Capitan (5-12, 1-3 GVL) finished with four hits, including a double by Sy Mendoza.
In other GVL action, the El Cajon Valley game at Mount Miguel was postponed because the visiting Braves did not have enough players. The schools agreed to re-schedule the contest rather than declare a forfeit.
Patrick Henry 5, Mira Mesa 4
GASLAMP QUARTER —- Eastern League-leading Mira Mesa played the ultimate game of give-away, all to the benefit of the Patrick Henry Patriots.
The Marauders committed two key errors in the sixth inning, allowing the Pats to overcome a 4-0 deficit to get even. Then another Mira Mesa error in the seventh set up the game-winning, walk-off hit by Jeremiah Vargas in a 5-4 triumph at Petco Park.
The walk-off winner was scored by Ash Bibbes, who struck out, but ended up on third base on a dropped third strike, with the throw from the catcher air-mailing the first base and rolling into the right-field corner.
Late-inning substitute Nolan Kluge was struck by a pitch, then Vargas grounded the ball through the right side to send the Patriots bouncing at home plate with an unlikely victory.
The comeback on four unearned runs left Marauders starting pitcher Jackson Betancourt with a no-decision after 5 2/3 solid innings. Betancourt registered 10 strikeouts against just a single walk, but his defense failed him.
Conversely, the Patriots did everything right down the stretch. They received strong relief, as Dylan Dyresen allowed just one hit in the sixth, then Andrew Guana went 1-2-3 in the seventh to collect the victory.
Patrick Henry (10-8 overall, 2-2 league) is now tied with Mira Mesa for third place, just a half-game behind a first-place deadlock between Clairemont at Coronado.
Mira Mesa (also 10-8; 2-2) received a pair of RBI from freshman Tyson Line. The early 2-0 lead doubled in the sixth on a run-scoring single by Aidan Espiritu, then an error for a run made it 4-0.
CV High Tech 11, Liberty Charter 0
SPRING VALLEY —- No excuses were being made. It's just a fact of life for many schools in the Frontier Conference.
"Many of our schools can't field full teams," Liberty Charter athletics director Linn Dunton explained. "Because many of our schools have abbreviated class schedules because of COVID, or don't have buses to transport our student-athletes, and parents are unable to drive because they're often at work, most of our schools don't have the numbers needed."
A good example comes in softball, where barely a half-dozen schools in the CIF-San Diego Section field teams among more than two dozen programs.
At least Liberty Charter is trying to play baseball, despite poor results.
On Friday (May 7), the Lions fell to 1-3 overall after Chula High-High Tech pitcher Alec Inda fired a 5-inning no-hitter in an 11-0 decision over the Lions at Mount Miguel High.
Inda, a junior right-hander, registered 11 of his 15 outs on strikes, then survived five walks and an error to complete his no-hitter. The decision lifted the Bruins (9-4 overall, 3-0 Summit League) into undisputed possession of first place.
The game's key play came in the third inning. With three runs already in for a 5-0 lead, a two-out Lions error loaded the bases and extended the inning. Cleanup hitter Justin "J-Rod" Rodriguez followed by clearing the bases with a 3-run, line double to center field for an 8-0 advantage.
For the Bruins, Oscar Navarro posted three base hits, while Carlos Quinones and Maximo Solis — the batters surrounding Rodriguez — added two each.
The ball clubs continue their 2-game series on Saturday at 11 a.m., also at Mount Miguel.
17,122 total views, 1 views today