Foothillers keep the winning going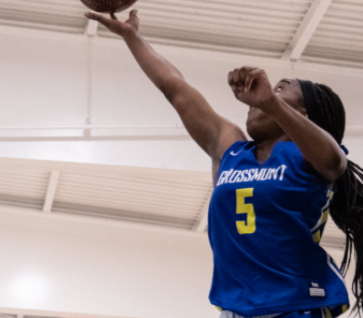 Grossmont junior Ariy'Ana Duke. / P.J. Panebianco
2021 EAST COUNTY PREP GIRLS BASKETBALL
GROSSMONT 62, GRANITE HILLS 42
EastCountySports.com staff report
LA MESA – Clear league favorite Grossmont defeated Granite Hills, 62-42, on Friday night for its fifth straight victory and fourth straight win to open the Grossmont Valley League season.
The Lady Foothillers followed that up with a non-league win on Saturday over Coronado, 69-57, for their sixth consecutive win.
Junior Ariy'Ana Duke had another great scoring outing on Friday, finishing with 20 points, to go along with three steals, and four rebounds.
Senior Anyssa Chargualaf added 18 points, three rebounds, and three assists against the island invaders.
"Ariy is a talented player who knows how to run the court," Chargualaf said. "I'm able to find her easily because she makes herself an available option at all times. We try to reach each other on the court."
Senior Daneca Perez added 10 points, three steals, and four assists for GHS.
Sophomore Domineece Silvels contributed 10 points and five rebounds for the Hillers.
"Playing team basketball and everyone stepping up when their number is called is our best attribute," Silvels said. "Every time we hit the floor, we are looking to dictate and be the aggressors. The pressure is there, but I bring confidence, energy, and a dominant presence in the paint."
Shyann Van Kirk went for 8 points, grabbed nine rebounds, and blocked two shots.
"We play team basketball here at Grossmont," Van Kirk said. "We do what we have to do as a team to win these games, we all play our roles which equals results."
GROSSMONT 69, CORONADO 57 – Ariy'Ana Duke scored 22 points, grabbed seven rebounds, and made three steals in a non-league contest on Saturday against the visiting Islanders.
It was Duke's fourth 20-point game of the season.
Anyssa Chargualaf added 18 points, three steals, and two assists for Grossmont, which led 18-9 after the first quarter.
Daneca Perez finished with 14 points, three steals, and five assists for the Lady Hillers.
Shyann Van Kirk had a team-high 10 rebounds to go along with 10 points in the book for Grossmont.
"Our goal every game is to improve," Van Kirk said. "Coronado is a good team, so it was good to see us continue to work together to achieve a win. This was a good win because Coronado is a top-six team in our division.
The Foothillers are the clear favorite now in the Grossmont Valley League and will get healthier soon. Grossmont's only losses this season are to Hills League contenders Mount Miguel and El Capitan (twice).
"We should see Cassie (Almandarez) and Mackenzee (Purnell) back on the floor in two weeks," Grossmont head coach Grace Campbell said. "We have to continue to get playoff ready."