Patriots belt four homers, double up Hillers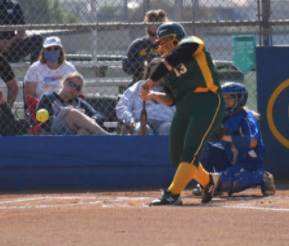 Olivia Gigante at the plate on Monday. / PHPatriots
2021 EAST COUNTY PREP SOFTBALL

By Adam Paul
EL CAJON – Another game another double-digit scoring effort for the Patrick Henry Patriots (10-4) as they belted four home runs in their 22-11 road victory over the Grossmont Foothillers (3-11) in Non-League action on Monday (May 10).
Patrick Henry would early behind first-inning home runs by Kaiah Altmeyer (5-6, 4 R, 5 RBI, SB, 2 2B, HR) who blasted the offering to center field where it rolled around allowing her to race all around the bases and score for an inside the park home run to lead off the game and Dezianna Patmon's (3-5, 2 R, 4 RBI2B, HR) two-run homer lead 3-0.
The Patriots in the top of the second inning would add to their lead when McKenna Gieger (1-5, 3 R, 2 RBI, HR) homered over the center-field fence for the second leadoff home run of the game.
Later in the inning, Jessica DeWitt doubled in Lily Glenn (1-2, 2 R) and Patmon followed with a two-run double scoring both DeWitt and Altmeyer to make it 7-0. The next batter Olivia Gigante (2-5, 3 RBI, 2B) would hit another double that scored Patmon making it 8-0.
Another RBI double by Altmeyer and a two-run homer by Jessica DeWitt (4-5, 4 R, 5 RBI, 2B, SB, HR) would give the Patriots a commanding 12-0 lead.
Patrick Henry was cruising along until the Foothillers scored six runs in the bottom of the third inning to cut the Patriots lead in half 12-6.
Hillers' Katelynn Parent (3-4, R, 3 RBI, 2B) drove in Natalie Emery (3-4, 3 R, SB) for the first run, a couple of batters later Alyssa Bolden (2-3, 2 R, 2 RBI) singled in Kimmy Bond (2 R), Isabel Cervantes (1-4, R, RBI) followed with an RBI single to make it 12-3, Jade Daley (1-4, R, RBI) would score on a passed ball and Bolden came into score on a sacrifice fly by Sunny Miller (1-3, 2 RBI, 2B) which was followed Cervantes scoring on an error.
Grossmont would add another pair of runs in the bottom of the fourth inning when Daley drew a walk that brought Natalie Emery home and Bolden followed with another walk bringing in Bond to make it 12-8.
The Patriots however answered back with a pair in the top of the fifth on a two-run single by Gigante to make it 14-8.
Once again the Foothillers responded as Parent ripped a two-run double scoring both Caitlyn Potts and Emery which pulled them within 14-10.
However, the Patriots again replied with three more runs starting with an error that scored Sydney Newton (2-5, 2 R, 2B), Gieger scoring on a ground ball out and Dewitt singling in Malia Savage (2-4, 3 R, 2 RBI).
Grossmont added their final run in the bottom of the sixth inning as Miller roped a double to center field allowing Bolden to race around and score.
Patrick Henry would add to their lead in the top of the seventh inning when Malia Savage drove in Savannah Sutton and Sydney Newton to make it 20-11, the next batter Altmeyer would rope a two-run double that would score both Glenn and Savage to round things out.
Leading by ten runs the Patriots Gigante looked to close things out in the bottom of the seventh inning. The only damage she allowed in the inning was a lead off base hit by Emery as she would retire the next three batters which included a pair of strikeouts.
For Grossmont, Potts went 2.1 innings in the loss as she allowed 12 runs on 8 hits while walking 1 and striking out 2.
Olivia Gigante picked up the win for the Patriots in which she allowed 3 runs on 5 hits over her 5.2 innings of work. She also walked 3 and struck out 5 on the day.
The double-digit runs by the Patriots was their eighth time on the season doing so and they improved their record to 8-1 in those games.
COUNTIN'  WITH YOUR FINGERS & TOES
  Scoring & Allowing 10 runs, Same Game  
SANTANA
Win: Sultans 21, at Patrick Henry 13
Loss: El Capitan 14, at Santana 11
Loss: Hilltop 12, Santana 10 (8 Iinn.)
Win: Sultans 25, at Mount Miguel 10
Date………
5-6-2021
5-5-2015
4-13-2015
5-5-2014
PATRICK HENRY
Loss: Santana 21, at Patriots 13
Win: Christian 11, at Patriots 17
  


5-6-2021
5-7-2015
DOUBLE DOWN:  It's been along time — exactly six years — since both Santana and Patrick Henry high schools both scored and allowed 10 runs in the same game. In fact, both occurred just two days apart back in 2015. Coincidence?