Foothillers have title, future in sight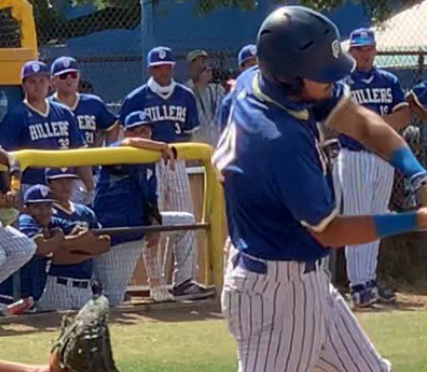 Justin Brown connects on a three-run home run on Tuesday. / Dan Barnes
2021 EAST COUNTY PREP BASEBALL
SAN DIEGO CIF OPEN DIVISION PLAYOFFS
GROSSMONT 10, LA COSTA CANYON 2
By Nick Pellegrino
ECS staff writer
EL CAJON —- The Grossmont Foothillers not only moved to within one game from becoming kings of CIF-San Diego Section baseball but the plans and blueprint to a potential championship also seem to be flowing together perfecting thanks to junior Jake Romero.
A right-hander, Romero wasn't even a starting pitcher due to injury when the season commenced, yet he fired a complete-game five-hitter to lead the Hillers to a 10-2 triumph over La Costa Canyon at historic Gizoni Field on Tuesday (June 15).
Grossmont (29-5) advances to Saturday's Open Division title game, awaiting the winner in the Eastlake-San Marcos series. San Marcos, the top-seed, rebounded from an earlier loss to defeat Eastlake, 8-4, to force a play-back final on Thursday in the double-elimination portion of the playoffs.
"The goal is always to play for an Open Division championship and we have earned that chance this Saturday. I'm really excited for our kids."
No matter which ballclub advances — Poway was predetermined by CIFSDS to host the finale — the Hillers will have their pitching in perfect alignment with unbeaten Evan Vasiliou (11-0) anticipated getting the baseball. Jaden Wilcox and Mason Dirkes will also be fully rested, too.
Give the gold star to Romero (6-1) for setting up the dream scenario.
Romero only struck out five Mavericks batters in his typical fashion, gaining the majority of his outs on grounders to an infield that played error-less defense.
The Mavericks (19-13) tallied once in the opening two innings, but Grossmont counted with three runs in the first, fifth and sixth innings but bust the game open late.
Included was a three-run homer to left field by Caleb Hommel in the fifth, turning a 4-2 lead into a 7-2 cushion to allow Romero to breeze to the finish line. Hommel, the third baseman, also snagged an LCC liner that was ticketed for a double down the line. Shortstop Reggie Williams was also noted for a pair of fine grabs on hot grounders.
Also belting a three-run homer was Justin Brown, who sent a liner to right-center field in the first for a 3-1 lead and what proved to be the game-winning RBI.
"Jake pitched an amazing game," Brown said. "The offense did our part and kept scoring so Jake could pitch stress-free without worrying about the score.
"If we hit and pitch like we can on Saturday, we will be victorious."
With the homer by Hommel (his 13th) and Brown (No. 8), the "Grossmont Lumber Co." became the 14th ballclub in CIFSDS history to reach 50 in a season. They are also one short of the Hillers record of 51, set in 2005.
Other notables from Grossmont: Isaiah Gomez batted 3-for-4 and scored twice; Noah Barnes went 2-for-3 with a walk, scoring all three times; while Hommel finished with four RBI. Barron Zamora also drove in a run.
In addition, no matter the results over the balance of the week, all four semifinalists will advance to the CIF Southern California Regionals next week.
Grossmont also equaled the school record for victories in a season, set in 1990 and '91. The East County record is 31 by El Capitan (2012); the section mark is 32 by La Costa Canyon (2003).