Stars beat Waves in early WBA showdown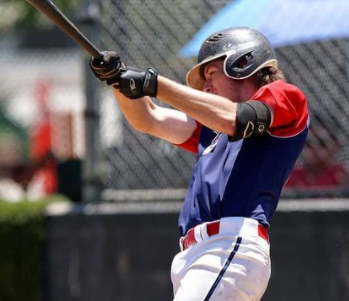 Photo by Vic Marano
ECS staff report
OCEANSIDE —- In the near quarter-century of Western Baseball Association action, the annual champion is almost always either the San Diego Stars or the San Diego (North County) Waves.
In the ballclubs' first meeting of the 2021 summer season, give the early edge to the Stars.
Henry Gonzales smacked a home run and Brady Joslyn drove in a pair of runs, as the Stars took advance of six Waves errors to take a 7-4 triumph Tuesday (July 6) at historic James Pete Coscarart Field at Escondido High School.
The Stars tallied three unearned runs in the first inning, then Joslyn took command. The second baseman posted a sacrifice fly in the second for a 4-0, then a run-scoring single in the fifth to make it 5-1.
Dallas Seidel followed with a double, although Joslyn was thrown out at the plate. Still, Seidel continued his torrid hitting, going 2-for-5 to maintain his .500 average over the past eight contests.
Stars pitcher Luke Gentry struck out four Waves batters over six innings to gain the victory.
The bullpen, which was leaking oil to start the season, posted another stellar outing, as Ryan Skillman and Kai Dennis combined to allow just one hit over the final three innings. For Dennis, he pitched two hitless frames to earn his second save of the summer.
The Stars (10-6 overall) return to action Thursday at 4:30  p.m., hosting the San Diego Gorillas at El Capitan's Hostetler Field.
500 total views, 1 views today