EAST COUNTY FEARLESS FORECASTER – Week Three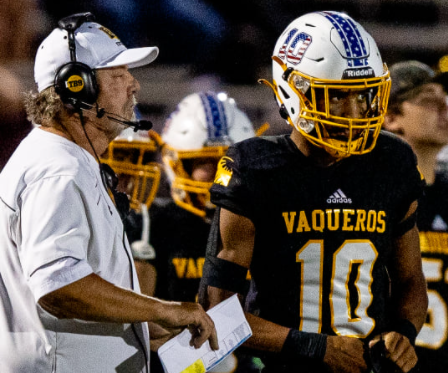 El Capitan head coach Ron Burner and senior Savigon Yokley. / P.J. Panebianco
2021 EAST COUNTY PREP FOOTBALL
EAST COUNTY FEARLESS FORECASTER – WEEK THREE
By Ramon Scott
EastCountySports.com
Welcome back to the top ten Grossmont Hills League.
After feeling the snub from county coaches in a preseason top ten media canvass, the Grossmont Hills League saw three of its teams thrust into the latest media rankings following consecutive victories to open the season, including impressive Week Two wins.
Helix, Granite Hills, and Grossmont were ranked sixth, seventh, and eighth, respectively in this week's voting by the panel.
For Grossmont, the jump was big following a home win over previously-ranked El Camino.
For the Highlanders and Eagles, pollsters basically see the Highlanders leaping the defending league champion Eagles.
It should be noted that the popular computer rankings still have Granite rated higher than Helix, but even the algorithm has the trio bunched together, suggesting a tight league race might be expected involving all three clubs.
Nonetheless, the respect is back when it comes to Grossmont Conference football.
Even El Capitan received acknowledgment for a top ten spot from a few voters.
The Christian Patriots may not be far behind in joining the ranks.
This week, Helix's county-blockbuster matchup at Mater Dei Catholic has unfortunately been shelved due to COVID protocols. Both teams are 2-0.
Last week, Mount Miguel's game was canceled due to COVID protocols, as well.
Games of Fri., Sept. 3
No. 8 GROSSMONT (2-0) at WARNER (2-0) — Grossmont hasn't traveled out of the San Diego Section since a 30-6 loss at St. John Bosco, of Bellflower, in 1996.
The previous time Grossmont traveled to L.A., it beat North Torrance, 9-7… in 1957.
Thus, Friday's road matchup with Warner, of Downey, will be the first-ever meeting between these schools. The Bears are ranked 21st in the Southern Section.
It wasn't necessarily by design for first-year coach Chris Holmes, who was nominated for the Chargers' High School Coach of the Week Award for last week's notable upset, but the GHL teams needed some creativity to fill a seven-game, non-league schedule
The Foothillers made an awaited return to the county top ten this week following their impressive home victory over the Wildcats.
With over 100 years of football at Grossmont, this version of the Hillers looks exciting and new
Grossmont has the East County's best passing offense out of the gate once again and downfield playmakers in Ryan Rodieck and electrifying Gio Burns.
But the Bears, of the San Gabriel Valley League, have outscored their first two opponents, 105-7. They weren't patsies either. Warren was firing on all cylinders in crushing southern-section power La Serna, 52-7, on Friday.
Warren quarterback Nico Iamaleava has passed for 12 touchdowns in the two games combined.
That will test Grossmont's defense, with studs Ryan Odom and Brennan Sanders, immensely.
We may not know what more is in store from these rising Hillers but this would be another great stunner, easily topping last week's accomplishment… WARREN, 35-21.
MADISON (1-1) at No. 7 GRANITE HILLS (2-0) — The Eagles posted a school-record victory margin in a 62-0 victory over historical rival Valhalla last Friday.
Somehow, the voters weren't impressed, moving the Highlanders slightly ahead of Granite Hills. Or maybe just, less impressed.
Madison went on the road last week and just took down Steele Canyon, which, for now, has dropped to fourth among the Hills League teams.
The Warhawks scored the last 15 points with touchdown passes of 51 and 31 yards and won by just one, 22-21, so this figures to be a tougher ask, especially for a second-straight rugged road game.
The Eagles are clicking with Joaquin Thomas Jr., who had two touchdowns against the Norsemen, including a 90-yard kickoff return score.
Granite Hills limited 12th-ranked Poway to just 10 points in a season-opening victory at Valley Stadium. The Eagles are playing their third-straight home game.
The series tied is tied at 1-all, but Madison won at home against the Eagles in 2019, 39-29, in a game that Granite Hills played well enough to win as both teams were ranked in the county top-15 at the time.
The Warhawks took a 32-9 midway through the third quarter but Justus McComb threw three-straight touchdown passes in a 12-minute span to pull Granite Hills within seven. Current Eagles Jaquayle Hodges nabbed three balls for 38 yards in that game.
Madison was coming into the game off a five-point loss to the Cougars.
Granite Hills once beat Madison, 23-14, in 1975 in a CIF playoff game at Aztec Bowl. That Eagles team lost the Section 2A title game to Oceanside at San Diego Stadium.
This Granite flock may find themselves in contention for that elusive section title once again… GRANITE HILLS, 21-14.
CORONADO (1-1) at No. 16 EL CAPITAN (2-0) — The Vaqueros, winners of an East County-best five straight games dating back to the spring, host the Islanders in search of a 3-0 start for the first time since their historic 2014 season.
El Capitan caught the eye of a few county pollsters this week as one of the top ten teams in the county, following their 42-0 shutout of visiting Hilltop. It was the Vaqueros' first shutout since the 2014 SoCal Division III championship game.
The Islanders may be able to reach the end zone against the Vaqueros' hot defense, but then again, they may not. Coronado managed just seven points at home in an overtime loss to El Capitan's co-Grossmont Valley League favorite, Santana, in Week 1.
Coronado had a touchdown pass in a 13-7 win over visiting Sweetwater last week, while also scoring on a fumble return. The Islander defense is allowing just 8.5 points per game in two games.
El Capitan quarterback Savigon Yokley has accounted for ten touchdowns in two games – five rushing, four passing, and one receiving.
El Cap leads the series 2-0, including a wild one in 2007 with the Vaqueros winning, 56-36, at El Cap.
In 1963, El Cap won 21-12 at 'Nado when the Vaqs went 8-2, which was the best mark in the school's five-year history at the time.
El Capitan has had nine seasons with eight or more victories, three of them coming under current head coach Ron Burner.
This club is on the way to that mark again… EL CAPITAN, 28-7.
WEST HILLS (2-0) at OLYMPIAN (0-2), 6:30 — The Wolf Pack are off to a great start and are expected to keep it rolling when they travel to face Olympian, which figures to get lured into the den of West Hills' defensive backs.
The West Hills defense has intercepted four passes this season, including Cohen Benevente's huge pick-six return to give the Pack the lead over visiting Imperial in last Friday's 21-7 home win.
Olympian prefers the pass and has a freshman quarterback that has completed 57 percent of his passes but has thrown four interceptions in a pair of losses.
The Eagles average only 1.2 yards per rush.
West Hills senior quarterback Braden Oberg has 337 yards of total offense and five touchdown pass with no interceptions thus far.
Senior Max Conaway has a team-high 11 receptions for the Pack, with four of them coming for touchdowns.
The Eagles have forced five turnovers in their losses – a season-opening 14-13 home loss to Westview and last week's 49-6 home loss to San Pasqual.
By comparison, the Wolf Pack are slightly ahead of San Pasqual and just behind Westview in the computer ratings. This is the first-ever meeting… WEST HILLS, 28-21.
MAR VISTA (2-0) at SANTANA (2-0) – The Sultans won 41-0 back in 2019. The same type of result could come here despite the Mariners' hot start, which includes wins over Crawford and Clairemont by a total of 87-13.
Dylan Anderson has been a breakout player for Santana this season. He had a 71-yard touchdown reception last Friday and had an interception for the second straight week, this time returning it for a touchdown.
Brayden Brashears also had a big interception with a long return of 57 yards last week. David Friedman has also stood out on both sides for Santana.
This plays into the hands of the Sultans, as the Mariners like to pass the ball for sure this season with quarterback Aleksandr Wojcik, who has over 550 yards.
Jordan Mahan is a big-play threat at receiver for Mar Vista, but be careful, he also threw a TD on a double pass in Week 1.
Luke Nash is as advertised so far for the Sultans. The junior is a hard runner with speed.
The Mariners also have forced at least six fumbles so far this season.
In 2018, the Mariners won in the regular season, but Santana won in the CIF playoffs.
The teams' first meeting was in 1969, then not again until 1999.
Santana leads the series 7-5, but since 2000, the series is tied 5-all… SANTANA, 35-14.
STEELE CANYON (0-2) at SAN MARCOS (0-2) – The Cougars will try to avoid their first 0-3 start in six years when they match up with fellow 0-2 club San Marcos.
The Cougars' losses are to their typical, respectable early-season opponents Eastlake and Madison.
Steele Canyon led 21-7 against the Warhawks but Madison struck with long touchdown passes, something that usually doesn't happen to Steele Canyon's defense.
In the opener, the Knights fell 33-22 to Rancho Bernardo, but they have passed for over 400 yards in two games.
The Cougars' Davis Langfeldt had a 53-yard scoop-and-score touchdown last week in the loss to the Warhawks.
Steele Canyon must do more offensively. While Major Givens has been terrific, the Cougars need to find scoring options on offense.
Steele leads the series 2-0 (2012: 17-6, 2007: 28-20) but this is the first meeting at San Marcos… SAN MARCOS, 22-21.
SAN PASQUAL (1-1) at VALHALLA (1-1) – The first-ever meeting between these schools has some intrigue.
The Norsemen figure to have a better shot this week than last, taking on the Golden Eagles, rather than the Granite Hills Eagles, in a record-setting loss on Friday.
Senior star Gio Alejo and Anthony Kasyouhannon, a sophomore, had interceptions last week for Valhalla against the potent Eagle attack.
The Golden Eagles had three interceptions of their own and allowed just 12 yards rushing in that blowout win last week against Olympian.
Golden Eagle Noah Snyder scored three touchdowns and San Pasqual also had an interception return for a touchdown in the romp.
San Pasqual lost its opener to good Scripps Ranch team 56-20.
The Golden Eagles would appear to be the stronger club coming in but Valhalla appeared to make significant offseason strides in a season-opening win over Hilltop… SAN PASQUAL, 28-21.
PATRICK HENRY (1-1) at MONTE VISTA (0-2) — The Monarchs are another team trying to avoid a recent sub-par start. Monte Vista is trying to avoid losing three straight to open the season since 2015.
The Monarchs played a wild one with the Patriots back in 2019 but this may not be as close, or as wild.
The Patriots took a 39-36 victory just in the last complete full season.
Patrick Henry senior Omar Hammond played in that game two seasons ago and made some big plays as a sophomore. He has six catches, including two touchdowns this season.
The Monarchs' Aiden Roby scored a touchdown last week to get Monte Vista to within 22-6 but Rancho Buena Vista won, 30-6.
Henry may be considered more balanced this season with nearly twice as many rushing yards as passing yards than in the few years past.
This all-time series is tied 6-all… PATRICK HENRY 20-15.
EL CAJON VALLEY (0-2) at VINCENT MEMORIAL (0-2) – The Braves are winless, but so are the Scots, as the teams meet in Calexico.
Last week, ECVHS scored 22 points in the fourth quarter but it was former Brave Jayden Barnett who had six catches, including two touchdown receptions for Hoover, which had loss 16 consecutive games, before outlasting the Braves, 30-22.
El Cajon's Daelin Rahrchson had an 89-yard kickoff return, as the Braves showed they continue to produce strong kick return teams year-in-and-year-out.
Senior Ahmed Sohail Ameer Hussein rushed for over 100 yards.
The Scots lost 28-27 to the Southwest (El Centro) Eagles last week in a heartbreaker, before that they lost 55-8 to the San Diego Cavers.
The  Scots lead the series, 2-0, with both games coming in the 2019 season.
The regular-season game saw Vincent win 35-6 at ECV, then the Scots won the rematch in the CIF Division V quarterfinals, 23-0, at the top-seeded Scots… VINCENT MEMORIAL, 21-14.
Game of Sat., Sept. 4
MISSION BAY (1-0) at CHRISTIAN (2-0) (at Valley Stadium) – The Patriots have won the last four in the series, including the spring finale, 52-31, as quarterback Jake Davila accounted for three touchdowns for Christian.
While long-time pals Davila and Joey Merritt were the co-stars in last week's win at St Margaret's, of San Juan Capistrano, hooking up for their first varsity touchdown together, the duo did team up for a two-point conversion in the game against the Bucs back in April.
Davila connected with current Pat receiver Isaiah Givens for a score in the game against the Bucs, as well.
In fact, Merritt, Givens, and J.C. Gustin combined for 10 receptions against Mission Bay.
Gustin, who had an interception in the game last week against the Tartans, had a pick against Mission Bay quarterback Clash Orsborn last April.
Orsborn and the Bucs defeated El Cajon Valley, 48-0, in their opener two weeks ago.
Orsborn has his own receiving pal in Jacob Sloan, who had four touchdowns against the Braves.
Christian leads the all-time series, 7-5… CHRISTIAN 42-26.
691 total views, 1 views today