Yokleys thrive but Vaquero rally short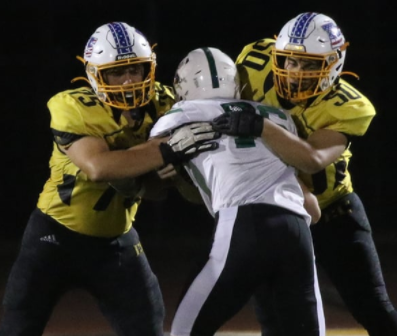 El Capitan and Coronado battle on Friday. / Billy Ortiz
2021 EAST COUNTY PREP FOOTBALL
CORONADO 33, EL CAPITAN 28
EastCountySports.com staff report
LAKESIDE — The El Capitan Vaqueros were at the program's recent high point when the Coronado Islanders came to town on Friday night.
The Islanders, meanwhile, showed the Vaqueros that they will have to be ready for the opponent's best effort moving forward.
Coronado, which scored just seven points in a season-opening home loss Santana, and then just one touchdown last week, as well, stunned the hosts in a 33-28 victory.
The visitors scored the first 20 points of the game.
And while Savigon Yokley put up Savi-like yardage, the Vaqueros made a switch at quarterback, and it nearly paid off late, putting the team's top scoring threat at the skill position.
Still, El Capitan (2-1) saw its five-game winning streak come to an end.
Antwone Yokley, put up even-better-than Antwone-like numbers, with three touchdown receptions for the Vaqueros, finishing with five catches for 193 yards.
"Coronado is a tough team and one of our toughest opponents," Antwone Yokley said. "We tried to pull off the comeback but didn't get back in it soon enough."
Savi threw for 136 yards and two scores (both to Antwone from 72 and 50 yards) but also caught five passes for 101 yards, including a 36-yard touchdown from Bruce Newland, and finished with 67 yards rushing, including a 35-yard run.
"I was just trying to get as much separation as a can and let Savi do his thing and connect with me," Antwone said.
The double connection between the twins in the second quarter got El Capitan back into the game, sort of, at 27-14.
"I caught the ball and I knew I had to make something out of it so I made a couple of moves and ended up in the end zone," Savigon Yokley said.
Newland was a confident 7-for-11 after taking over, finishing with 160 yards and another scoring toss, to Antwone midway through the fourth quarter to move El Capitan within a touchdown of the lead.
But it was Coronado's Zane Delcore who the Vaqueros couldn't stop on this night, as he rolled up 246 yards on the ground, including a 42-yard touchdown on Coronado's first play from scrimmage.
Islander quarterback Hudson Herber also threw for 180 yards, including three touchdowns, as the El Cap defense got a reality check over the first two quarters.
Herber scored on an 8-yard run to give Coronado (2-1) a 20-point lead midway through the second quarter.
"Coronado played a hell of a game and we made it close," El Capitan head coach Ron Burner said. "We lost our middle linebacker (Alex Fa'aea) early. They were packing the box and challenging us to throw, so we let Savi go out wide and let Bruce throw it up to those guys where they can go get it."
Junior Angel Diaz had an interception for El Capitan, which he returned 20 yards.
Burner also cited the effort of Bruce LaRoosa Jr., who stepped in on defense for Fa'aea.
"I was so happy to get a chance and went out there and gave it all I had for my team to try and get the win," LaRoosa Jr said. "We almost pulled it off because we believe in each other. The line was awesome tonight. It was a great team effort. We always have that next man up mentality, so whatever the team needs we are all there for each other."
The Vaqueros find themselves in another tough early-season test this week against the Rancho Buena Vista Longhorns, who are off to an 3-0 start, including a convincing win over Monte Vista.
NONLEAGUE
CORONADO 33, EL CAPITAN 28
Coronado   7 19 7  0 — 33

El Capitan 0 14 0 14 — 28
C — Delcore 42 run (Couts kick)
C — Bower 76 pass from Herber (Couts kick)
C — Herber 8 run (pass failed)
EC — A. Yokley 72 pass from S. Yokley (Dietrich kick)
C — Alexander 24 pass from Herber (run failed)
EC — A. Yokley 50 pass from S. Yokley (Dietrich kick)
C — Couts 36 pass from Herber (Couts kick)
EC — S. Yokley 36 pass from Newland (Dietrich kick)
EC — A. Yokley 27 pass from Newland (Dietrich kick
374 total views, 1 views today