Breshears, Sultans mow down Mariners
Updated: September 5, 2021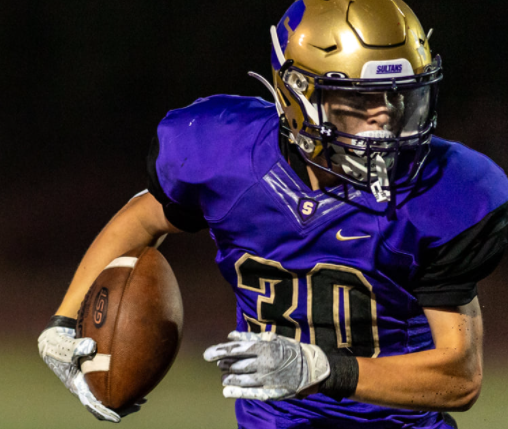 Santana's Brayden Breshears carries on Friday night. / Tammy Ryan
2021 EAST COUNTY PREP FOOTBALL
SANTANA 40, MAR VISTA 27
EastCountySports.com staff report
SANTEE —- Santana running back Brayden Breshears rushed 16 times for two touchdowns and a career-high 189 yards, powering the unbeaten Sultans (3-0) to victory over the visiting Mar Vista Mariners, 40-27, in a non-league contest on Friday (Sept. 3) at Santee Community Stadium.
And he didn't even start the game at running back.
The back-and-forth contest was tied four times before Santana could break it open in the third quarter.
The key play for Breshears, who replaced an injured starter, saw the senior take a delayed handoff, but when the Mariners linebacker over pursued, Breshears cut to the right side and was gone untouched or a 65-yard TD gallop to tie the contest at 20-all.
The score started a run of 21 consecutive points by the Sultans. The stretch was capped on a 6-yard run by Logan Jordan, also running behind the Koda Alto and Shaun Martin to make it 34-20.
"Mar Vista came out packing a punch," Brashears said. "They really wanted to win that game but we pulled through with our lockdown defense."
Also pushing the Mariners around were junior Nathan Diveley and senior Reese McDuffee.
"We had amazing blocking," Brashears said. "I could have never had the yards and touchdowns without them."
Santana and West Hills, both 3-0, own the best overall marks among Grossmont Valley League programs.
The Mariners scored on defense twice in the first half with a pick-six and fumble recovery after strip-sack.
Santana committed five turnovers in the first half.
"Our kids worked hard to come back and win," Santana head coach Tim Estes said. "The defense always plays well to keep us in the game. We also moved people around on the offensive line to help us get it done and it paid off."
Logan had 52 yards rushing and a touchdown, while starting back Luke Nash had 52 yards before having to leave the game.
Dylan Anderson had an interception for Santana. He has recorded an interception in all three games so far this season.
"Our defense has been lights out this year," Anderson said. "I just remember following the receiver and hearing everyone yell that the ball was coming, so I turned around and jumped as high as I could and made the catch."
Sophomore Linden Benson also scored a touchdown late in the contest.
Mar Vista stayed in the contest early thanks to its defense.
On a Sultans rush up the middle, the Sultans ball-carrier was gang-tackled by three Mariners defenders, with strong safety Diego Arrizon stripping the ball and romping 45 yards to get the visitors from Imperial Beach even at 13-all. Nathaniel Ramos had a 60-yard interception return for a touchdown for Mar Vista (2-1).