Griffins back home again for 'opener'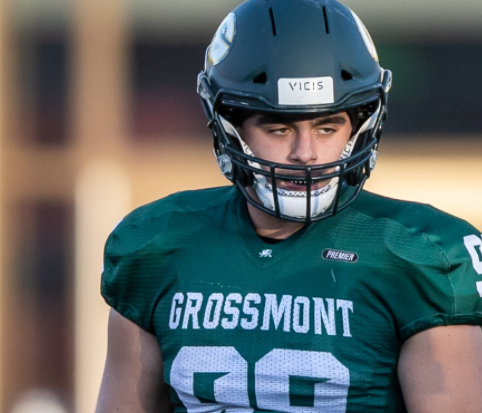 Grossmont College's Rock Gonzalez. / P.J. Panebianco
2021 COMMUNITY COLLEGE FOOTBALL
EastCountySports.com staff report
EL CAJON – The Grossmont College Griffins will apparently make their return to their home stadium on campus today at 3 p.m. when they host Mt. San Jacinto.
Grossmont, which played its first two "home" games at separate locations (Southwestern College (against the "host" Jaguars and Grossmont High School), should be able to continue its winning ways against the Eagles in its American Conference Mountain League opener, although both teams come in having won back-to-back games.
The Griffins have scored 97 points on their last two contests.
Grossmont College sophomore quarterback Brady Abt wasn't the Southern California player of the week only because two of the highest-profile quarterbacks in the region had big games, as well.
Abt passed for nearly 500 yards and four touchdowns in a 55-21 win over Moorpark last week.
Grossmont's move into its new league immediately takes a program that has been mired in a multi-year slump into an instant championship contender, along with Pasadena City.
Grossmont (2-1) debuted at No. 27 this week in the JC Atheltic Bureau Coaches Poll, ahead of No. 32 Pasadena City (3-1).
Mt. San Jacinto had to miss its first two games of the season due to health protocols. One of the contests has been rescheduled.
The Eagles defeated Santa Ana (0-2) last week, 39-34, on the road, as a pair of MSJC QB's combined for over 400 yards and four touchdowns.
SAN DIEGO MESA at PALOMAR – No. 25 Palomar will face No.12 San Diego Mesa on Saturday at 6 at Cougar Stadium.
The Comets are 2-2 and are coming off a 30-42 loss against College of the Canyons, while the Olympians are coming off a 45-35 win over Long Beach City College, which improved their record to 3-1.
Mesa has won the last two meetings after the Comets had reeled off eight consecutive series wins.
This game rates very closely, especially playing on the Comets' home field at Escondido High.
Both teams have notable players on both sides of the ball.
Mesa quarterback Gunnar Gray matches up against Palomar's Zeke Payne.
And the defenses for both squads have been strong.
A key to Palomar's success could be if they can have a game-controlling running game with impressive runner Tawee Walker.
SOUTHWESTERN at CHAFFEY – The Southwestern Jaguars should be expected to snap their two-game losing streak at winless Chaffey on Saturday night in Rancho Cucamonga at 6.
The Jaguars have had some struggles against some decent clubs, including College of the Canyons and Palomar, but this matchup should suit their strengths.
Southwestern (1-2) hasn't found much of a rhythm on offense with three quarterbacks having shared the snaps this season.
Currently, Jimmy Inman and Brandon Smith look to be splitting halves until someone can heat up.
The same could be said for the running game. No Jags back has stood out or moved into the role of a lead back.
Defense has been Southwestern's strong suit thus far.
667 total views, 1 views today