Griffins claim eight wins, share of title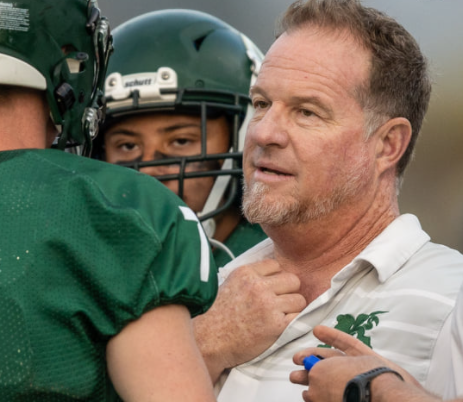 Grossmont College head coach Mike Jordan. / P.J. Panebianco
Griffins 11/6 opponent forfeited the game, the Griff's will end the season with a regular season record of 8-2. Look forward to a championship game/bowl game to end the season!#GHOUSE #ChinUp pic.twitter.com/bp481TKke9

— Grossmont College Football (@GrossmontFB) November 5, 2021
2021 GROSSMONT COLLEGE FOOTBALL
GROSSMONT def. COMPTON by forfeit
EastCountySports.com staff report
EL CAJON —- Few thought Grossmont College would have any trouble with lowly Compton College, which would give the Griffins a second-place finish, But all that changed without the G-House ever taking the field.
While the Griffins' game with Compton was canceled and forfeited by the host Tartars, big news came from near the Rose Bowl as Pasadena City College scored a stunning upset of league-leading and previously unbeaten Mt. San Jacinto, 28-26, breaking up a potential game-tying, two-point conversion pass in the final minutes.
The Lancers victory forged three teams for the top spot in the division, each with just one loss. Grossmont, Pasadena, and MSJC are all 4-1.
Among the trio, each went 1-1 against the other.
According to the CCCAA standings, SBVC is now listed with two losses. However, there is a protest pending because MSJC did not play its season opener against neighbor school Riverside because of a shutout ordered by the County of Riverside Health Department.
Since it was a non-conference game, the Eagles believe it should be a "no contest" ruling and not a forfeit.
Grossmont is also claiming a forfeit non-conference victory over Orange Coast in Week 2, giving the Griffs two such wins this season.
Meanwhile, Grossmont did not play Compton because Tartar officials, basically, threw their hands in the air in frustration to another horrible season. But that's not news.
Misery in Compton
Back in the early 1990s, long before Grossmont College returned to its state championship form — including the 2005 J.C. Grid-Wire national championship — the Griffins were the unfortunate answer to a trivia question:
Before San Diego City College folded its football program following 34 consecutive losses, who was the last ballclub to lose to the Knights?
Answer: Grossmont College.
In 2021, the G-House may be the answer to a similar question, but with Grossmont now coming out on top.
Earlier in the week, Compton College elected to cancel its final two contests of the regular season, including Saturday's (Nov. 6) game with the Griffins.
The decision by the Tartars came as no surprise, but could it be a sign of things o come?
Compton, coming off a highly embarrassing 77-0 shellacking from Mt. San Jacinto, announced it has cancelled the balance of the season by awarding forfeits. That means the school caps the 2021 season winless in nine starts.
But that's not completely unexpected.
Since 2009, Compton will have won a mere six of its final 115 ballgames dating back to 2009. The mark includes six seasons winning just one contest, plus six winless campaigns, all at 0-10.
The last time Compton captured more than one game came in 2008, still a sub-.500 mark at 4-6. The Tartars last winning season: 6-4 in 2006.
That's a long, long stretch of futility, even poorer than San Diego City's downfall.
Thus, Compton's last game was supposed to be Grossmont (7-2 overall), which now captures five straight victories and 7-of-8, will finish no worse than in a tie for second place in the Mountain Division of the CCCAA American Conference.
Pasadena City College could catch the 4-1 Griffins in conference play, but the Griffins hold the tie-breaker over the Lancers in head-to-head play, claiming a24-19 decision at Mashin-Roth Memorial Field on Oct. 16
656 total views, 2 views today