Braves have winning down in playoffs
Updated: November 10, 2021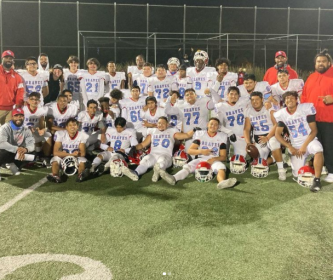 2021 EAST COUNTY PREP FOOTBALL
EL CAJON VALLEY 21, ARMY-NAVY ACADEMY 14
EastCountySports.com staff report
SAN DIEGO – The El Cajon Valley Braves won a playoff game for the second consecutive postseason, following up a win in 2019 with an impressive 21-14 road win at Army and Navy Academy in a Division V contest on Friday night.
The Braves won their first-round game against Mountain Empire back in 2019 – the last contested round of postseason playoffs.
That's the first time ever that El Cajon Valley has won a playoff game in consecutive postseasons. It was also El Cajon Valley's first road playoff win in 16 years.
The win also snapped a four-game losing skid, all of which came against Grossmont Valley League opponents.
"We showed up to work and did what we were supposed to do," the Braves' Sameer Issa said. "We did our job and just executed. I did my best to control what I can control. It was a close game and we had to stay focused until the very end of the game."
The Braves recovered an onside kick to start the game, then star junior back Kal-el Gordon capped the starting momentum with a 12-yard rushing touchdown for a 7-0 lead just 1:15 into the game.
Daniel Jacobs had a 90-yard fumble return for a touchdown with 3:21 left in the first quarter to extend the Braves' lead to 14-0.
Paris Dixon recorded his fifth interception of the season with 1:10 left in the second quarter.
El Cajon Valley's Omar Jaimes continued his impressive play with a 2-yard touchdown for a 21-0 lead before halftime.
The Braves forced a turnover on a fumble with five minutes left in the game.
Gordon finished with 164 yards on the ground and had two tackles for loss on defense.
"We relied heavily on the run game and we will continue to do so," El Cajon Valley head coach Nick Osborn said. "In the playoffs, it's key to control the clock when you are playing against teams in unfamiliar territory. It allows you to dictate the tempo, and in our division where most players are playing both ways, it ends up being your best defense. Just try to retain possession and control the clock."
Jaimes led the Braves' defense with seven solo stops.
Junior Eric Dement and sophomore Darick Dubose both recorded sacks for ECV, which recovered four fumbles on the evening.
"It feels amazing to move on to the next round of playoffs because we have slowly been improving more and more at every position," El Cajon Valley's Jesse Higuera said. "The sophomores and freshman that got moved up to the varsity, as well as, our scout team, is helping this team every day of the week."
El Cajon Valley moves on to play another road game, this time in the quarterfinals.
The Braves will get a second shot at the Mission Bay Buccaneers, who came to Priest Field and shut out ECVHS, 48-0, in the season opener. This time it will be a semifinal berth on the line, however.
"Our boys have been capable of winning just about every game we've played this year," Osborn said. "It's been a matter of believing in themselves and executing the game plan and doing what they know best.
"Army-Navy game definitely gave us a good fight but our boys made plays on defense when it was most needed."
Army and Navy Academy has lost in nine consecutive playoff appearances.