Red Hawks stumble as Rock prevails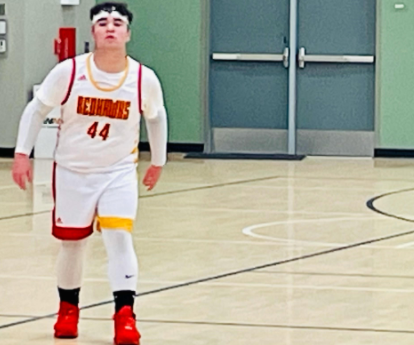 Mountain Empire junior Alvaro Martinez. / Dave Dickens
2021 EAST COUNTY PREP BASKETBALL
By Dave Dickens 
EastCountySports.com
POINT LOMA (11-22-2021) — After a smooth and effective game plan to open their season at Greenfield Middle School in El Cajon, a struggling Mountain Empire club last season (0-9) defeating the Borrego Springs Rams last Friday was impressive. 
Last season was a shortened season, as well, so Mountain Empire will have a much longer season to compete and possibly qualify for some Division V playoffs, however, let us not get ahead of ourselves as the Red Hawks took one on the beak, so to speak, on Monday night, 55-30, to the Rock Academy Warriors.
The Warriors came out with some serious energy putting up an impressive 18-4 first-quarter run, however, the visitors put up seven, playing a little more competitive in the second quarter, 7-10, leaving the Warriors on top 28-11 at the half.
Leading the anemic offense in the first half was last week's player of the game, Albin Acevedo, with five points, along with his teammate, junior point guard Alvaro Martinez.
Red Hawks coach Bernard Vann has been plagued with the injury bug with not only key members of his football team but also transferred to his varsity basketball team.
Talk about a man with many hats who has been very successful considering the cards he continues to be dealt, he's also now the boys' basketball coach, and more importantly the athletic director at Mountain Empire High School.
Typically, if you can win the third quarter in a basketball game, the odds of winning increase tremendously.
However, the Red Hawks played their hearts out but lost 18-10 in the third quarter of play. A few fouls and missed shots, mixed in with defense on both sides, 9-all, in the fourth.
The leading scorer on the afternoon once again, Acevedo, hit a bucket in the third and a pair of buckets in the fourth and Martinez hit a three from downtown in the third, finishing the evening with seven points.
Both squads finished with seven personal fouls to conclude the match.
Things will be looking up for Mountain Empire, as three of their key players, also lost for football season, were not available for this contest, but will be ready to go next week.
The all too familiar three amigos – sophomore point guard and starting quarterback Corey Vann, senior center Lukas Spencer, and junior forward Landon Laskey.
It should be interesting and competitive as the Red Hawks (1-1) host the Southern California Yeshiva Hawks (0-3).
This contest will be played at the neutral site once again, as Mountain Empire awaits their new gym flooring, in process, which should be completed in January. Until then, and on Monday, November 29, at 7 p.m. at Greenfield Middle School, which has been so kind as to lend its gym to the Red Hawks.
462 total views, 2 views today