Eagles take down Oxnard Academy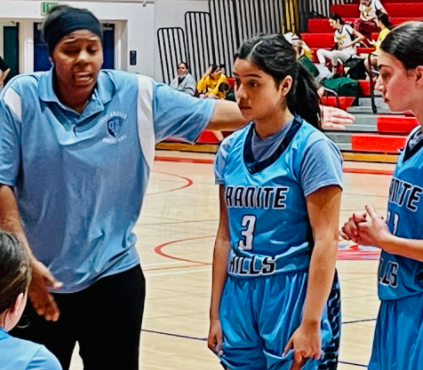 Granite Hills head coach Jerami Stewart (left) and senior guard Jasmin Vargas (3). / Dave Dickens
2021 EAST COUNTY PREP GIRLS BASKETBALL
GRANITE HILLS 37, OXNARD ACADEMY 23
By Dave Dickens 
EastCountySports.com
CYPRESS (12-28-2021) — After taking one on the chin, the Granite Hills Lady Eagles didn't sit back and lick their wounds, they hit the floor running, which has been their M.O. this year, to pick themselves up and move on to the next contest.
This is the thought process head coach Jerami Stewart has poured into the hearts of her Lady Eagles, in which she is proud of her team's ability to have these young athletes buy in.
This time around, as they faced the Oxnard Academy Lady Patriots, what a way to open up the first quarter, on both sides of the ball, limiting the opponent to a lowly two points, and put up nine points offensively.
Sophomore Jasmine Yakob led the first quarter with a three-pointer and a bucket, to score five of the nine first-quarter points.
In a much closer second quarter, 11-10, still in control of the Lady Eagles, to make it 20-12 at the half against the Lady Pats from Cypress.
Sophomore Delaney Fry led in scoring in the second quarter with four coming via the free throw.
Once again, the Lady Eagles protected their lead and scored just enough on offense to win the second half, 17-11, and ultimately the game, 37-23.
After a complete turnaround, the Lady Eagles bounce back was fueled by the entire team,
However, Addyson Clark assisted in this bounce-back win against Oxford Academy.
"We executed our plays and took better care of the basketball which helped us secure the victory. I was fortunate enough to knock down a few shots. My teammates were able to find me when I was open. I take pride in my defense and try to take on whatever defensive assignment my coach gives me to the best of my ability," said Clark.
Granite Hills advanced to the tourney championship versus Valencia out of Placentia.