Not much between Wolf Pack, Eagles
Updated: January 27, 2022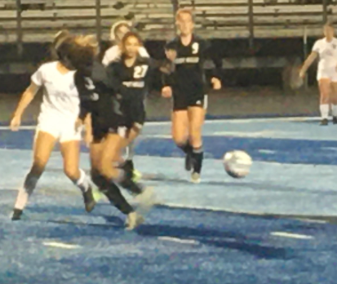 Granite Hills and West Hills in action on Tuesday evening. / Nick Pellegrino
2021-22 EAST COUNTY PREP GIRLS SOCCER
No. 10 WEST HILLS 0, No. 13 GRANITE HILLS 0
By Nick Pellegrino
EastCountySports.com
SANTEE —- The separation between East County's top soccer programs — West Hills and Granite Hills high schools — is considered minuscule. And the extension of a goalie's reach maintains the status quo among the leaders in the Grossmont Hills League.
Granite Hills senior goalie Maci Vance registered an amazing stop on a perfectly-placed penalty kick late in the second half Tuesday (Jan. 25), maintaining the Eagles' "clean sheet" (aka, scoreless tie) with host West Hills at Wolf Pack Stadium.
West Hills sophomore striker Alexis Leath, the runaway GHL scoring leader after collecting 31 points entering the second round of league play, took the "from the spot" shot and placed the ball perfectly to the low, left side corner.
Somehow, Vance, diving to her right, touched enough of the ball to make the game-saving spot at the goal pst, allowing Granite Hills (7-3-2 overall, 3-1-1 GHL) to stay within reach of West Hills (8-3-3, 3-0-1 GHL) to set up the season finale to determine the league championship.
"We had a really good gamer today," said Leath. "Both teams are really good, but we couldn't finish our chances, but we'll get them next time."
Soccer may be a new sport for Leath, yet she's quickly developing into a top striker.
"I haven't been playing soccer that long, but I've received a lot of good coaching," noting several club coaches which have aided her along the way.
Along with Leath, the West Hills roster is dotted with strong players throughout the starting 11. Along with Leath and her 14 goals upfront, the Pack features two others with college plans being finalized. The list includes midfielder sabella"Bella"  Shubert (daughter of head coach Russ Shubert) and defender Julia Baxter. Both serve as co-captains.
"It was a tough one. No one could finish — we were both good on defense," noted Shubert.  "But we still expect to win (league)."
Shubert already accepted a soccer scholarship to Knox College in Illinois. Baxter has been accepted academically to several Division I Big West Conference schools — Cal Baptist and Grand Canyon — yet is waiting to hear from her first choice, Cal Poly in San Luis Obispo.
"It was a very hard-fought, physical game, with lots of opportunities," said Baxter, who plans to major in engineering.  "It was an evenly matched game."
Baxter sat out with a knee injury but hopes to return by the CIF San Diego Section Division I playoffs.
The sides will cap the regular season with the decisive clash on February 10 at Valley Stadium. Kickoff is slated for 6:30 p.m