Matadors advance to regional semi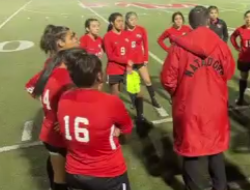 2022 EAST COUNTY PREP GIRLS SOCCER
CIF SOUTHERN CALIFORNIA REGIONAL
By Nick Pellegrino
ECS staff writer
SPRING VALLEY — The month of March is known for CIF state championship participants, especially at Mount Miguel High.
The Matadors girls basketball is among the best, but — wait! — the 22-time league champions were eliminated early this season, falling in the opening round of the Southern California sectional.
Instead, it's Matadors girls soccer squad shining in the spotlight, making its debut in state postseason competition — and with brilliant results.
Buoyed by a natural hat trick by sophomore Kenzie Reyna, fourth-seeded Mount Miguel (14-6-1 overall) took firm control from the opening kick to down visiting GALA (Girls Academic Leadership Academy, an all-girls public school in Los Angeles), 5-1, Tuesday (Mar. 1) at Matadors Stadium.
"We got the jump on them right from the start," said head coach Ernie Reyes III. "That allowed us to keep possession for much of the game."
Bringing the ball in from the wing, Noemi Osuna cut through the middle to beat the goalkeeper of the Goddesses for a 1-0 lead.
Later in the first half, Ingres Pitones scored for a 2-0 advantage.
On the back end, Matadors goalie Leanna Franklin came close to posting her fourth straight postseason shutout. She registered five saves.
"Leanna was solid once again," added the coach. "She did get a yellow card for a hand ball (outside the box), then GALA converted the free kick.
"Otherwise, she and the defense stood their ground."
The second half featured Reyna and her first career natural hat trick (three goals with no one else from either team scoring), She leads Mount Miguel with 28 markers in pursuit of the school record.
Ryna's season started with a 5-goal effort against nearby Liberty Charter, then posted four goals against El Cajon Valley and a regular hat trick to defeat Morse.
"We passed well and were able to press and win the ball without attacking third."
Mount Miguel advances to the Southland semifinals, meeting Division V top seed and unbeaten The Webb School (18-0) on Thursday (Mar. 3) at 3 p.m.
The official game site should be announced on Wednesday, but it figures to be either Pomona-Pitzer colleges or Clairemont-Mudd-Scripps colleges, Both are members of SCIAC.
503 total views, 1 views today