Christian's Bailey tosses shutout in light-hitting day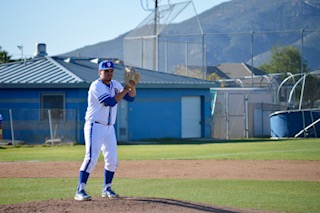 2022 EAST COUNTY PREP BASEBALL
By Nick Pellegrino
ECS staff writer
EL CAJON — There was a considerable lack of offense in Monday's East County baseball games. It seems coaches hate games to start a week because Sunday practices are not allowed under CIF state protocol.
However, the practice of not scoring carried over into Wednesday's (Mar. 9) action, although a couple of the hometown teams — Christian and West ills — scarcely came away with victories.
Christian 1, Olympian 0
EL CAJON — A single run was all that was needed for Christian High pitcher Shane Bailey. The senior scattered five hits before the Patriots tallied the game's lone marker with a walk-off winner in a startling squeeze bunt by Nathan Cena to nip visiting Olympian, 1-0.
Bailey, a senior, struck out seven Eagles batters without a walk to lead the Patriots to the thrilling victory.
"It was a very good pitching duel and my curveball seemed to be my strikeout pitch," said Bailey. "(Vaughn (Major, the shortstop) made a crazy catch and I was dialed in the entire time."
"Yes I felt more under control today than in my other outing.
Major's over-the-shoulder grab allowed Bailey to strand a runner at third base before Christian scored in the bottom of the seventh.
Leadoff batter Ashton McCurty took a 3-2 pitch in the ribs to reach base.
The sophomore moved to second on a basehit through the right side by Hunter Kaul, the home on a dramatic squeeze bunt by Nathan Cena.
Cena beat the throw to first base for a scratch single to load the bases, but when the throw sailed down the right-field line, McCurty waltzed home.
"Today's game was all about competing till the very end," McCurty noted. "We were playing a game where neither team scored till the bottom of the seventh."
"After I got hit, Hunter moved me over to second, then Nate later down a beautiful bunt to move me to third and with an over-throw at first I was able to score,
Christian (4-2 overall) opens a string of contests against Grossmont Valley League ballclubs on Friday, traveling to West Hills.
Olympian (3-4) suffered its second straight shutout loss after earlier losing to Patrick Henry standout Ryan Ellis earlier in the week.
Eagles saw second baseman Ghianni Rosado batted 2-for-3, while pitcher Joshua Manness hard-luck loser. Both are senior.
West Hills 3, Patrick Henry 2
DEL CERRO —Talk about unbeaten Patrick Henry breaking into the CIFSDS rankings went by the wayside after West Hills came to town to skip over the host Patriots, 3-2.
The Pack made an early 3-0 lead stand-up scored twice in the sixth inning. Otherwise, Patrick Henry collected a mere two hits all afternoon off Wolf Pack pitching.
The key Patrick Henry hot was a 2-run double by sophomore Eddy Gomez, driving in both Ryan Ellis and Ryan Ruch.
Otherwise, West Hills pitchers Braden Wilson, Eron Drake dominated; the only other Henry knock came off the bat of sophomore Talin Gardini.
Wilson fired six innings on two hits, although he hit three batters. Drake fired a 1-2-3 seventh for the save.
Center fielder Connor Evans (3rd inning) and first baseman John Leija (4th) drove in runs for the Pack, both on doubles.

Madison 8, Grossmont 1
CLAIREMONT MESA — Following a ton of text messages and email from fans and players at Maidson High, especially after last week's difficult giveaway to Grossmont in a tournament championship, one can be fairly sure the Warhawks had this contest circled on the calendar.
Following a late-inning collapse in falling ti the Aztec-Fothiller title game, 9-8 in 8 innings, Madison shook off the effects of a first-inning run to bounce Grossmont, 8-1 in tournament action on Wednesday (Mar. 9).
Warhawks pitcher Lawson Minshew allowed one early run, then ran off 6 1/3 straight innings of shutout ball to avenge his club's previous setback to Grossmont.
The Hilers run saw River Diaz De Leon stroke a two-out double, clean-up batter Barron Zamora was walked, but Cody Bigley stroked a cutch RBI single on a liner to center field
Among Grossmont's four hits, Bigley, the second baseman, registered half of them.
Madison immediately answered with four runs in the first, then three more in the third to take control.
Leading hitters for the Warhawks were cleanup hitter Jake Jackson (3-for-4), Simon Griffin (2-run double) and Maddox Haley (2 hits, 2 runs scored), who capped the scoring with a home run in the fourth.
Once rising a 4- game win streak, Grossmont falls to 4-2 overall.
Madison climbs to 5-2 in snapping a mild 2-game losing streak. The Warhawks completed a string of five games against Grossmont Hills League opponents by net playing Helix, Santana and Steele Canyon.
Cathedral Catholic 4, Helix 1
CARMEL HIGHLANDS — Rising as miserable 4-11 record against East County school over the past three seasons, the Cathedral Catholic Dons finally got one back in the win column after stopping visiting Helix, 4-1, at Manchester Field.
Dons pitchers Frankie Tarantino and Jack McWilliams fired a combined 3-hitters to slow down Helix.
Tarantino, who registered a save against Helix last season, isn't quite ready to pitch the distance just yet, but Dons coaches were fine with his 1-hit effort over 4.1 innings. McWilliams followed with 2.1 innings, halting a potential Scotties rally.
In the fifth, Helix started a comeback from a 4-0 deficit when Anthony Matthiesen came home on a basehit by Cameron Tarling. However, McWilliams cut the rally short.
For the "Dogs" (as the locals like to call themselves), Haden DeAnda and Charlie Mirer both recorded doubles, with RBI coming from Jared Allred, James Castagnola, Cody Nitowitz, and sophomore Vinny Venverloh (So).
Cathedral Catholic (3-4 overall) has now defeated Steele Cayon and Helix in consecutive games. The Dons next meet Granite Hills and Grossmont.
Ben Haar collected two of the three hits for Helix (4-3).
Ocean View Christian 17, Julian 0 (6 inn.)
RANCHO DEL REY — Starting the season three weeks later than most schools, and holding low expectations with a male student body of less than 50, those factors allowed Julian to get swamped by host Ocean View Christian on Wednesday (Mar.9) in non-league play.
Patriots senior pitcher Nolan. Rutherford fired six innings of no-hit ball but completed his no-hitter while on the bench because OVC scored five times in the half-half of the inning.
Currently, in high school baseball, there is no run rule (or mercy rule) to end a ballgame early, so the Eagles probably and understandably vacated the balance of the contest since Rutherford, registered 17 of the 18 outs came on strikes, He walked two.
OVC (which played its entire roster of 20) moves to 3-2 overall and rides a 3-game win streak following season-opening setbacks to Gen. S.W. Kearny High.
Julian (0-1) holds its home opener Thursday at 3 p.m. against North County-High Tech High of San Marcos.