Wolf Pack can feel first title since '03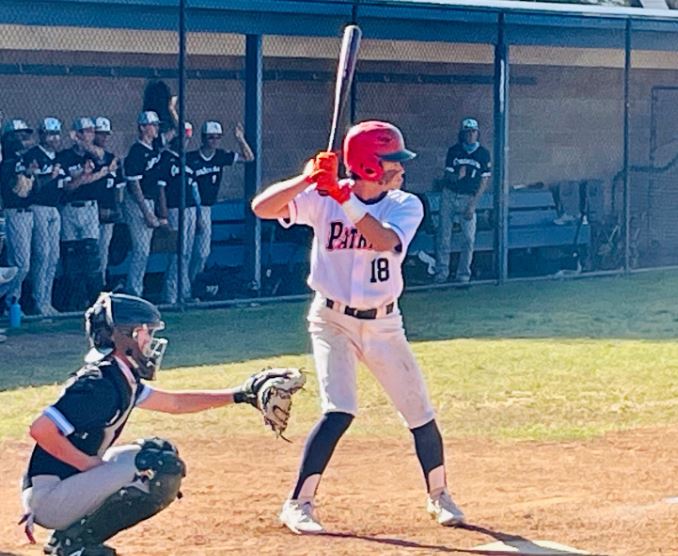 2022 EAST COUNTY PREP BASEBALL
ECS staff report
Grossmont Valley League
West Hills 5, Valhalla 1
SANTEE — By avoiding a pair of major upsets over the final two weeks of the regular season, the West Hills Wolf Pack will clinch the second-ever league baseball championship in school history after stopping second-place Valhalla, 5-1, to sweep the season series Friday (Apr. 29) at Wolf Pack Park.
West Hills (16-8-1 overall, 6-0 GVL) holds a two-game lead over both the Norsemen and El Capitan in the Grossmont Valley League with four games remaining. The composite record of those four squads is just 31-57-1 (.35), meaning it would be a historical feat if they fail. Otherwise, it will be the school's first title since 2003.
This is the school's 34th season of varsity baseball, which began in the 1989-90 school year.
In 2003, West Hills backed into the crown after Grossmont lost on the final day of the season, then the Pack also lost the following day. This season, if they can sweep the four games left, the Pack would become just the second Grossmont Conference school in either league to post an unblemished league record since the current league alignment was altered in 2009.
Not too bad for a ballclub which went just 2-13 in league play last season.
Starting pitcher Shane Stevens was strong throughout, finishing with a complete-game 4-hitter to garner the victory. Stevens struck out seven Norsemen batters, only yielding a run in the third inning.
Valhalla broke out in front on an RBI single by sophomore Julian Jerjees with two down.
West Hills assumed the lead with two runs in the fourth, then took control with three runs in the sixth.
Shortstop Nate Sykowski slashed a hard ground ball into left field for a go-ahead, two-run single which scored right fielder T.K. Madera and left fielder Braden Wilson.
Later,  a fieder's choice made t 3-0, then catcher Conner Tanga smacked a two-run double to left.
El Capitan 3, Mount Miguel 1
SPRING VALLEY — El Capitan starting pitcher Brody McAuliffe carried a shutout into the seventh inning, while the Vaqueros utilized a pair of unearned runs in the third inning to out-last host Mount Miguel, 3-1, in GVL play on Friday (Apr. 29).
McAuliffe struck out five Matadors batter and walked just one in his best outing of the season.
Cole Winsor was the mop-up man for El Capitan — and in more than one way.
When El Cap scored on an error in the third, he followed with an RBI single. Then in the seventh, when an error allowed Mount Miguel to hit the scoreboard with two down, Winsor took the mound and registered the final out for the save.
Things could've got messy for both sides in the final inning.
Leading 2-0, the Vaqueros got a run when McAuliffe was picked-off first base by Matadors pitcher Eddie Delgado. But on the play, Wyatt Carrillo came home from the bag at third.
In the home-half of the frame, the potential game-ending ground ball was booked by – of all players — Winsor at shortstop. So he was then called upon to register the final out, which he did on a ground ball fielder's choice to Carrillo at second base to register the save on a combined two-hitter.
El Capitan (13-10 overall, 4-2 GVL), which moved into a second-place deadlock with Valhalla, saw McAuliffe register two hits. Mount Miguel (5-19 overall) is now 1-5 in league.
Eastern League
Christian 1, University City 0
EL CAJON — The pitching staff of Christian High posted its seventh shutout of the season, capped by back-to-back blankings of University. City to=reagain its share of the Eastern League lead.
After the Centurions posted an upset win to open the 3-game, week-long series, the Patriots bounced back with an 8-0 win on Wednesday, then Friday's (Apr. 29) verdict of 1-0 over the Centurions, leaving Christian and Patrick Henry on top with 5-1 marks.
Christian has not gone 15.1 innings without yielding a run, including Ashton McCurty's 5-hit muzzling of University City. McCurty, a 6-foot-2 sophomore, struck out six Centurions batters, running his record to 6-0 with his second straight complete-game shutout. He earlier stopped Brawley on a 1-hitter.
The lone run for Christian came in the forth inning.
First baseman Xavier Barnum stroked the first of his two doubles, then as replaced by pinch-runner Ryan De Los Reyes, Nathan Cena followed by intentionally  slapping a slow roller to advance the runner to third base, then De Los Reyes waltzed home when Chris Mellow hit a hard ground ball through the left side of the infield with two down.
Christian (16-5 overall) and idle Patrick Henry are now tied at 5-1 in league play. They will close the regular season against each other in a 3-game set. University City is 16-6-1 (2-4 league).
In other eASTERN league action, Coronado dropped Clairemont, 12-3.
Avocado East League
Ramona 10, Vista 3
RAMONA — Ramona junior Reed Gunnett, in his first season on the varsity, had driven in only four runs all season. Well, pump that total up by 50 percent after he drove in four runs Friday (Apr. 29), powering the Bulldogs to a 10-3 vanquishing of Vista in Avocadeo East League action.
The victory completed a 3-game sereies sweeo for the Dawgs, who moved into a tie foe third place with Mt. Carmel, two full games behind in the standings.
Should Ramona (9-15 overall, 6-5 AEL) sweep next week's set with last-place El Camino, the school's rain make-up game with front-running Rancho Byena Vista could decide the pennant and an automatic CIFSDS playoff berth.
Gunnett, a first baseman, displayed both speed and power, slugging a 2-run triple and a 2-run home run in a 3-for-4 outing, falling just a double sky of hitting for the cycle.
In addition, four other platers also collected two basehits, one player from each grade-level — senior saac Garcia, junior, Donovan Ward, sophomore Ryan Truman and frosh Preston Conklin.
Winning ptcher Isaac Garcia yielded just one run on four hits in the left-hander's five innings, then the Panthers(6-17-1 overall, 3-8 AEL) posted a pair of cosmetic runs in the seventh.