Eagle historic romp; Santana stays close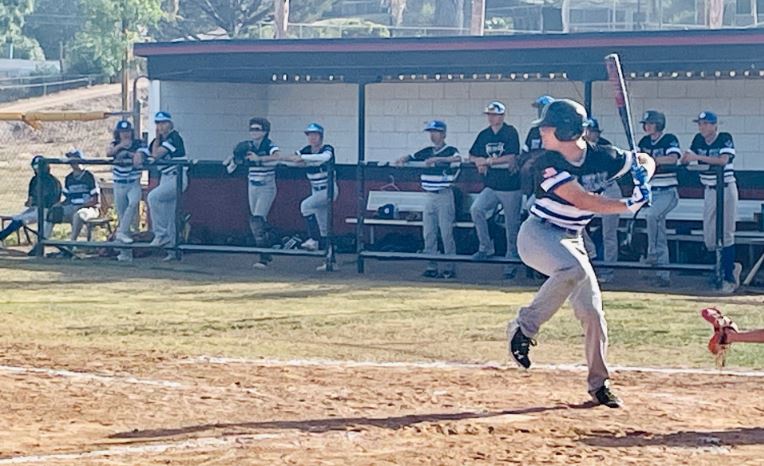 2022 EAST COUNTY PREP BASEBALL
ECS staff report
EL CAJON — Granite Hills and Santana high schools maintained their status quo on top of the Grossmont Hills League was one-sided victories Tuesday (May 3), allowing the Eagles to maintain a one-game lead entering the final two weeks of the regular season.
Granite Hills registered a milestone triumph over host Grossmont, 16-1. Meanwhile, the Santana Sultans took down Steele Canyon, 5-2.
Granite Hills 16, Grossmont 1
EL CAJON — Granite Hills pitchers Ethan McNish-Heider and Devin Saldana combined on a 3-hitter,while the Eagles offense closed with 16 unanswered runs, racing past visiting Grossmont.
The 15-run margin matches the largest between the teams this century. More than a decade ago, Grossmont registered an identical 16-1 spanking on the Eagles on Apr. 11, 2011.
The second-biggest wipe-out prior to Tuesday was exactly five years ago when the Hillers handed a 14-1 pasting over the Eagles on May 3, 2017.
Grossmont scored in the first inning on a two-out double by Noah Barnes, bringing home River Diaz De Leon (lead walk).
From that point on, McNish-Heider dominated, yielding just one other basehit over his 6.1 powerful innings. McNish-Heider finished by striking out seven Hillers batters, but when his pitch count was about to expire, Saldana entered to strike out the final two batters.
Granite Hills answered with three runs in the third, four in the fourth, then busted the ballgame open with an 8-spot in the sixth.
Interestingly, the Eagles tallied their runs on just two extra-base hits — doubled by Camden Sos and Cody Macias — without a home run among the club's 13 hits against six Grossmont pitchers.
Sos, the shortstop, paced the bats with three RBI, including a 2-run double top tap the fourth for a 7-1 cushion.
Meanwhile, Jacob Embleton, Brenden Lewis, and Macias recorded two RBI each. Also, Grant Mac Arthur was walked three times, yet scored on each occasion.
Santana 5, Steele Canyon 2
SANTEE — Santana High pitcher Caleb Harris fired a complete-game 3-hitter, pacing the Sultans to a comfortable 5-2 decision over visiting Steele Canyon on Tuesday (May 3).
Harris registered seven strikeouts of Cougars batters, only getting touched in the third inning when Steele Canyon pulled even at 2-all on a pair of unearned runs due to catcher's interference (which is considered an error for scoring purposes).
.However, from then on, Harris yielded only yielded one other hit.
Steele Canyon moved even on a two-out double by senior Taylor Corella after the inning was extended on the interference violation.
Fortunately for Harris, his teammates responded with singled runs over the ensuing three trips to the plate.
In the third, a two-out double by Ethan Wright was followed by a go-ahead basehit by Harris, who also earned the game-winning RBI.
The fourth saw an RBI single by Elijah Reber, also with two down. And the fifth, frosh Cody Cappelletti singled home Wright (lead single). The RBI hit was the team's third straight — all in different innings — with two down.
For Santana (17-5 overall, 6-2 GHL), Wright batted 3-for-3 and stole a pair of bases.
Steele Canyon (12-11, 1-7 GHL) saw Corella finish with two hits including his double, while senior catcher Tommy Molina had the team's other basehit.