Ochoa sets RBI mark, Rams snag CIF opener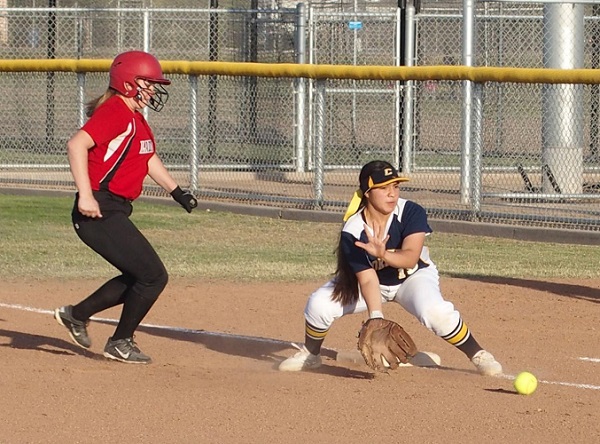 Borrego Springs vs. Calipatria / Courtesy photo
2022 EAST COUNTY PREP SOFTBALL
ECS staff report
PALA INDIAN RESERVATION —  The debut season of Bonsall High School softball  ended with an unbeaten Patriot League championship at 6-0, earning a home playoff contest — a nice accomplishment for a program dominated with sophomores and freshmen.
However, the Legionnaires' successful campaign (22-5 overall) also ended with a loss when the Borrego Springs Rams came into town to record an 18-13 shootout victory in CIFSDS Division V playoff action held Tuesday (May 17) at the brand-new Pala Indian Reservation Athletics Center.
The play-in ballgame saw the Rams expand a 12-10 lead by scoring six times in the top of the seventh inning.
Borrego Springs junior Jimena Ochoa established a school record by driving in eight runs. Ochoa did her damage on 4-for-6 hitting, with a double and without walking. She also stole four bases.
Ochoa's RBI count fell just short of the 26-year old Back County record of 10, set by Jamie Morgan of Mountain Empire in a game against Vincent Memorial of Calexico on March 14, 1996.
In addition, junior Shantell Fuentes recorded three RBI, while sophomore Mariana Torres (3-for-6) drove home two runs.
It was the first postseason triumph for the Rams since stopping Castle Park, 6-4, on May 21, 2016.
Borrego Springs (11-5),  the two-time, undefeated Manzanita League champion, advances into the main draw, double-elimination portion of the D-5 field. The Rams next meet top-seeded Foothills Christian on Wednesday at 3:30 p.m., to be held at Santee ASA (Field 4) at Town Center Community Park in Santee (next door to SportsPlex USA).
Division IV
Montgomery 18, Monte Vista 2
OTAY MESA —  A  difficult, gruelling  season for the Monte Vista Monarchs ended sooner than expected after the Montgomery Aztecs posted a run-rule triumph, 18-2 in five innings, in Tuesday's (May 17) CIFSDS Division IV play-in ballgame.
No game information was report.
Monte Vista finishes with an 11-13 overall record, 2-6 for fourth place in the Grossmont Valley League. Montgomery (13-9) advances into the main draw, next meeting Sage Creek of inland Carlsbad on the road on Thursday.
—  Compiled by Nick Pellegrino
300 total views, 1 views today